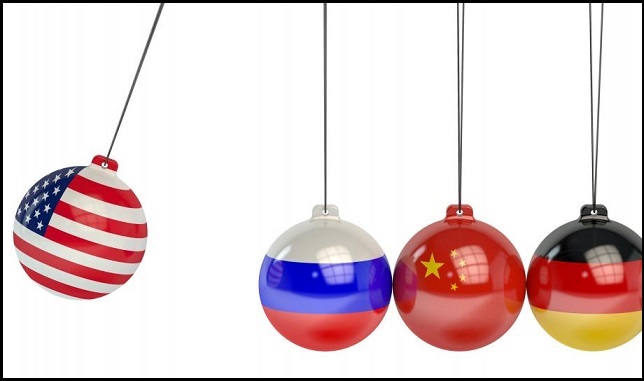 The US Secretary of State Antony Blinken probably thought that in his self-appointed role as 'the world's policeman', it was his prerogative to check out what is going on between Germany, China and Russia that he wasn't privy to, Indian Ambassador and prominent international observer M.K. Bhadrakumar writes.
Most certainly, Blinken' intention was to gather details on two high-level exchanges that Chinese President Xi Jinping had on successive days last week — with German President Frank-Walter Steinmeier and the Chairman of the United Russia Party and former Russian President Dmitry Medvedev respectively.
Blinken made an intelligent guess that Steinmeier's phone call to Xi on Tuesday and Medvedev's surprise visit to Beijing and his meeting with Xi on Wednesday might not have been coincidental. Medvedev's mission would have been to transmit some highly sensitive message from Putin to Xi Jinping. Only last week, reports said Moscow and Beijing were working on a meeting between Putin and Xi Jinping later this month.
Steinmeier is a senior politician belonging to the Social Democratic Party — same as present chancellor Olaf Scholz. It is certain that Steinmeier's call with Xi was in consultation with Scholz.
Blinken would have sensed something was amiss when Steinmeier had a call with Xi Jinping out of the blue, and Medvedev made a sudden appearance in Beijing the next day and was received by the Chinese president.
Xi Jinping put forward a three-point proposal to Steinmeier on the development of China-Germany relations and stated that "China and Germany have always been partners of dialogue, development, and cooperation as well as partners for addressing global challenges."
Similarly, in the meeting with Medvedev, he underscored that "China is ready to work with Russia to constantly push forward China-Russia relations in the new era and make global governance more just and equitable."
Both readouts mentioned Ukraine as a topic of discussion.
But Blinken went about his mission clumsily by bringing to the fore the contentious US-China." It comes as no surprise that Wang Yi gave a stern lecturing to Blinken not to "engage in dialogue and containment at the same time", or to "talk cooperation, but stab China simultaneously".
Wang Yi said, "This is not reasonable competition, but irrational suppression. It is not meant to properly manage disputes, but to intensify conflicts. In fact, it is still the old practice of unilateral bullying. This did not work for China in the past, nor will it work in the future."
From the US State Department readout, Blinken failed to engage Wang Yi in a meaningful conversation on Ukraine. But there is another side to it.
Germany has been internalising its anger and humiliation during the past several months. Germany cannot but feel that it has been played in the countdown to the Ukraine conflict — something particularly galling for a country that is genuinely Atlanticist in its foreign-policy orientation.
German ministers have expressed displeasure publicly that American oil companies are brazenly exploiting the ensuing energy crisis to make windfall profits by selling gas at three to four times the domestic price in the US. Germany also fears that Biden Administration's Inflation Reduction Act building on foundational climate and clean energy investments may lead to the migration of German industry to America.
The unkindest cut of all has been the destruction of the Nord Stream gas pipeline. Germany must be having a fairly good idea as to the forces that were behind that terrorist act, but it cannot even call them out and must suppress its sense of humiliation and indignation. The destruction of the Nord Stream pipelines makes a revival of German-Russian relationship an extremely tortuous affair. For any nation with a proud history, it is a bit too much to accept being pushed around like a pawn.
When it comes to Ukraine war, Germany becomes a frontline state but it is Washington that determines the Western tactic and strategy. Germany estimates that China is uniquely placed to be a peacemaker in Ukraine. The signs are that Beijing is warming up to that idea too.
read more in our Telegram-channel https://t.me/The_International_Affairs