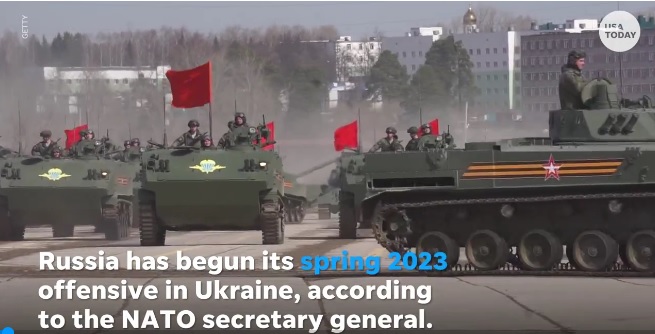 Russia has already begun its expected spring offensive in Ukraine, sending thousands of additional troops in an attempt to overwhelm Ukraine's defenses, NATO Secretary-General Jens Stoltenberg said.
"The reality is that we have seen the start already," Stoltenberg said. "We see how they are sending more troops, more weapons, more capabilities."
Stoltenberg, speaking ahead of a two-day meeting of defense ministers in Brussels, confirmed Ukraine claims that Russian troops appeared to be pushing forward. And he said NATO plans to increase its ammunition stockpiles that have been depleted by the war, while expressing concern that Ukraine is spending ammunition much faster than its allies can supply it.
A proposal to provide fighter jets to Ukraine would be discussed - Stoltenberg said, denying Russian assertions that providing them would make NATO countries "direct" parties to the conflict.
The battle for the pivotal city of Bakhmut in Ukraine's eastern Donbas region has seen some of the fiercest fighting of the invasion. Ukraine President Volodymyr Zelenskyy's office said the situation in Bakhmut's northern suburb of Paraskoviivka was "difficult" amid intense shelling.
"They have been trying to take the city since July," Iryna Rybakova, press officer for Ukraine's 93rd Brigade, told BBC. "Little by little they are winning now. They have more resources, so if they play the long game they will win."
read more in our Telegram-channel https://t.me/The_International_Affairs