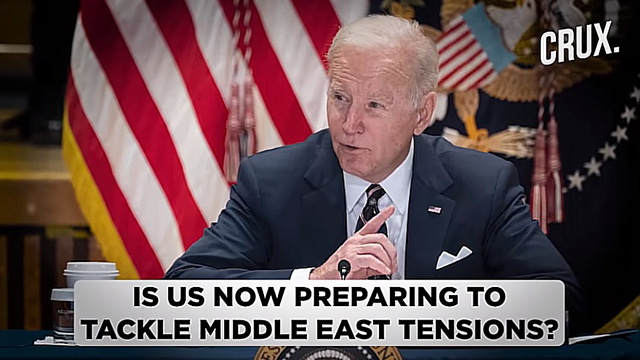 As the US sends an aircraft carrier, war ships and jets to aid Israel after Hamas' unprecedented surprise attack near the Gaza Strip, think tanks and observers are wondering if the Palestine-Israel conflict will shift the focus and change the course on the battlefield of Ukraine, as the US finds itself in a dilemma between an already stretched military aid capacity and the need to assert hegemony in every corner of the world, writes The Global Times from China.
Chinese experts believed that it is natural and realistic for Ukraine to be concerned about reduced attention from the US after the outbreak of a fresh but escalating military conflict in the Middle East, given its already tight budget and growing protests domestically demanding the reduction in aid to Ukraine.
A report issued on Sunday by the US-based Institute for the Study of War (ISW) reflects the West's anxiety by saying that the Kremlin "is already and will likely continue to exploit the Hamas attacks on Israel" to hype its rhetoric against Western interference in Ukraine, demoralize Ukrainians and reassure Russians that the focus of the West on Israel will deflect its attention from Ukraine.
The other more pressing concern for Ukraine should be a shift in the international perception of the nature of the Russia-Ukraine conflict, Cui Heng, a scholar from the China National Institute for SCO International Exchange and Judicial Cooperation, told the Global Times.
President of Colombia Gustavo Petro said on Saturday in X, formerly known as Twitter, that he had "showed how the world power approached one way the Russian occupation over Ukraine and, in a different way, the Israeli occupation over Palestine."
Li Haidong, a professor at the China Foreign Affairs University, told the Global Times on Monday that the US predicament is the result of its stoking of crises and conflicts all over the world, and ultimately it must bear the consequences itself.
Just days before the surprise attack at the Gaza Strip, the US said it would transfer thousands of seized Iranian weapons to Ukraine in a move that could help alleviate critical shortages the Ukrainian military is facing. US Central Command has already transferred over 1 million rounds of seized Iranian ammunition to the Ukrainian armed forces, it announced on Wednesday.
The sudden outbreak of the Israel-Gaza conflict is a slap in the face for US' foreign policy and will further impact the White House's efficiency in handling international affairs, experts said.
Li noted that the changing dynamics in the Middle East do have an impact on the current situation in Ukraine, but only to a limited extent, as the US may pressurize its allies to provide assistance to Kiev, although European countries will also divert some attention to supporting Israel. Overall, it is unlikely that the Russia-Ukraine conflict will be resolved in the short term, the expert said.
read more in our Telegram-channel https://t.me/The_International_Affairs