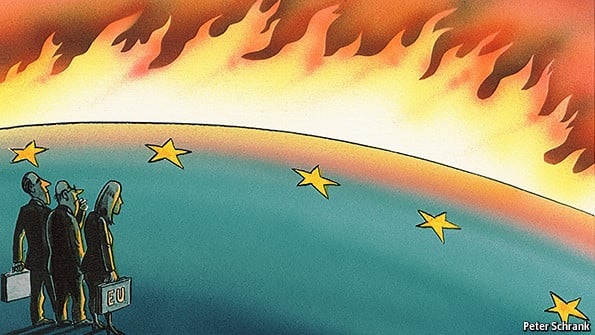 The security situation around Europe is rapidly deteriorating, writes "Geopolitika.news" from Croatia. Much is not right within the EU itself; something needs to be done. However, instead of solving real problems, European elites offer people illusions and ideology.
This is indicated by the rapid deterioration of the security situation around and in Europe itself. Terrorist acts are being committed in the European Union. Recently this happened in Brussels, where an Islamic extremist originally from Tunisia killed two Swedish citizens. There is a high probability of new similar terrorist attacks, as well as the probability of new waves of migrants that have been covering Europe for years, rolling in from the Middle East and Africa.
All this clearly shows that there is a lot wrong in Europe itself, and that something needs to be done. Especially against the backdrop of a dangerous armed conflict on the eastern borders of the European Union – Ukrainian. This conflict could bring even more trouble if it escalates and spreads beyond Ukraine.
On top of all a dangerous war is breaking out in Israel, which threatens to engulf the entire Middle East. There is no need to say separately what the consequences may be for the whole world, especially for the European Union, which itself made much of the bad things that are happening now possible due to its own ill-considered decisions.
The best confirmation that this is a mess and that the situation is getting very dangerous is the decision to restore border controls between some members of the European Union, including Germany and Poland, Italy and Slovenia, Croatia and Hungary.
After all, everyone knows that the Brussels EU leadership was most proud of the achievement in the form of free movement of people and capital within the Schengen zone and the European Union. There has never been a case before when they compromised this achievement by again building border barriers. However, it is clear that praise will now have to be postponed, and further measures must be taken that would ensure the safety of citizens in reality, and not just in words.
Politicians are accustomed to assuring that the authorities are able to cope with problems, that they are actively working on certain mechanisms that will help. For example, there was a lot of talk about coordinated control over the flow of migrants from Arab and African countries in exchange for generous monetary allocations to these countries (Turkey, Tunisia, and so on). But the cart, as they say, is still there.
Citizens of the European Union see all this very well and feel unprotected. Accordingly, protest against the ruling politicians is growing among them. This happens in Germany, and in the Netherlands, and in France, and in Poland, and in Hungary, and in Italy, and in Spain, and in Greece, and in Croatia.
It's hard to believe that border controls are a temporary measure. This is indicated by the rapid deterioration of the security situation around and in Europe itself, and everything is not happening spontaneously, not on its own, but in a completely controlled and coordinated manner, like, by the way, all large-scale regional or global processes in history.
It seems that this fear of European citizens is disclosed by Austrian Foreign Minister Alexander Schallenberg who said at a meeting of EU foreign ministers in Luxembourg that the EU is in a "ring of fire" of conflicts that are increasingly flaring up near its borders. "A circle of fire has formed around Europe, which, according to our feelings, is constantly shrinking and flaring up more and more. This is not only about Ukraine."
From the point of view of official Vienna, the Western Balkans are also unstable. "They also need to be monitored," said the Austrian head of the Foreign Ministry, adding that Brussels "no longer has the luxury of focusing on just one crisis." Even if the European Union focuses on the Israeli-Palestinian conflict, "we must not lose sight of other crises," Schallenberg said.
It is necessary to analyze correctly the situation and draw conclusions, which will then form the basis of the right decisions, but the EU has long had trouble with this. Its leaders have been "pushing problems under the carpet" for too long, and instead of solving them, they feed people with illusions, empty ideology, including concern for some "values."
Although most often they themselves do not understand what values we are talking about and simply "cram" them into the concept of democracy. Moreover, they present issues of sexual orientation as 'literally vital', as if these are the issues that most citizens are primarily concerned about today.
And people want bread, but without circuses. Instead, people demand that those elected take care of the state security and physical safety of each of them, the safety of their children, property, their traditional values and the way of life to which they have become accustomed for many decades.
The time for experimentation will come when the strong foundation of any society is restored: security, peace, stability and a healthy economy, which will provide citizens with humane working conditions and a decent income for a normal life, stresses Croatian site.
read more in our Telegram-channel https://t.me/The_International_Affairs