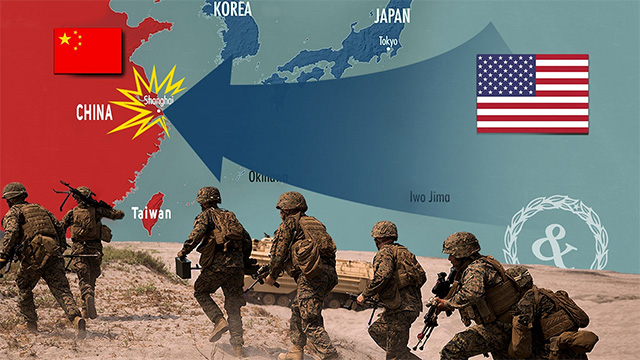 Two back-to-back events can be seen as major events in an acceleration of strategic realignments among the big powers. They appear amidst growing signs of a new cold war globally with particular focus on the United States' containment strategy against China playing out in the Indo-Pacific region, stresses M.K. Bhadrakumar, Indian Ambassador and prominent international observer.
First, the US President Joe Biden is hosting a trilateral summit at Camp David with Japanese Prime Minister Fumio Kishida and South Korean President Yoon Suk Yeol, which is expected to result in the signing of a defence, security and technology cooperation agreement between the three allies relating to the Indo-Pacific. The trilateral agreement to be signed at the Camp David summit reportedly includes ballistic missile defence systems and the development of other high-end defence technologies.
Second, the annual Malabar exercises participated by the navies of the US, India, Japan and Australia begins, hosted by Canberra for the first time, surrounded by much hype that a QUAD collective maritime defence alliance is emerging in the Indo-Pacific.
Conceivably, the Camp David talks signify an effort by the US to form a new military bloc in Asia and an attempt to encourage Japan and South Korea to join the mini military bloc known as AUKUS [Australia-UK-US]. Washington's intensification of military-technical and scientific-technological cooperation with Seoul and Tokyo makes it easier for them to interact with AUKUS projects.
As regards the Malabar exercise, its main thrust appears to be to build up QUAD's operational capability within a collective maritime security strategy in five high-priority areas, including anti-submarine warfare and maritime domain awareness.
Simply put, like AUKUS, QUAD is also transforming, as American ingenuity is creating an alliance-style defence structure on a platform of non-military grouping by strengthening various modes of military cooperation with the intention to make it serve Washington's interests. Intrinsic to this is the flattering attention President Joe Biden has been paying to India lately — and to Prime Minister Narendra Modi personally.
Interestingly, the US and Australia perceive that the Indian leadership for the first time is showing an ''activism [that] defies conventional skepticism that New Delhi's preference for nonalignment and its geo-strategic priorities militate against deeper military cooperation with its Quad partners,'' as an Australian establishment think tanker Tom Corben wrote recently in Nikkei Asia.
That is to say, to quote Corben, Malabar exercises have ''evolved to focus on increasingly sophisticated forms of high-end naval cooperation, particularly maritime domain awareness and anti-submarine warfare… [and] there is a political and strategic window of opportunity for the four countries to make good on this potential.''
The US-Australian study, however, drew comfort that whereas political sensitivities and geo-strategic concerns hitherto prevented QUAD countries from embracing a collective security agenda, ''these constraints are beginning to lessen… as its members come to recognise China as a common military challenge that requires a degree of collective action and security coordination to address.''
The paradox is, against such a complex backdrop of opacity or downright doublespeak — depending on how one views it — a contrarian wind may have begun blowing in the weekend presaging some forward movement at the 19th round of India- China Corps Commander Level Meeting held at Chushul-Moldo border meeting point on the Indian side on 13-14 August 2023.
As of now, the evidence is deemed too conjectural but the joint statement exudes a tone of optimism. The two sides considered it necessary to extend the discussion overnight, which has been estimated as ''positive, constructive and in-depth.'' The protagonists ''exchanged views in an open and forward looking manner'' and also ''agreed to resolve the remaining issues in an expeditious manner and maintain the momentum of dialogue and negotiations through military and diplomatic channels.''
It is reasonable to assess that neither India nor China wants a war and that both will maintain a more constant contact with each other as they search for ways to find a solution from which they can both emerge as winners. The core of the guidance provided by the leadership is that the two countries regard each other as a partner, not adversary.
Evidently, the US is stuck in the old Cold War groove despite the drastic changes in international relations that have taken place since the collapse of the Soviet Union, especially those that required the development of new approaches to maintaining strategic stability and building a new architecture of international security.
But the US' block thinking is the opposite of the development of stable, equal, constructive, mutually beneficial relations based on consideration of each other's interests and aimed at ensuring equal and indivisible security for all. Therefore, its preservation as the main intellectual tool for shaping foreign policy only underscores that the US is not ready, unable or does not intend to build such relations with leading global players such as Russia and China. Implicit in it is a stark message for India, too, that the time has come for it to stand up and be counted as ally.
There is no doubt that the US envisages a pronounced military-strategic dimension to AUKUS and QUAD, which means a high probability of transformation of these interstate associations as cogs in the wheel of a full-fledged military-political block sooner rather than later.
Suffice to say, as in the case with the NATO on the European theatre, the function of confrontation is planted in the AUKUS and in QUAD, which will inexorably increase the military potential of Australia and the US in the Asia-Pacific region, causing a serious change in the balance of forces and generating a spike in regional and global tensions, M.K. Bhadrakumar writes.
read more in our Telegram-channel https://t.me/The_International_Affairs