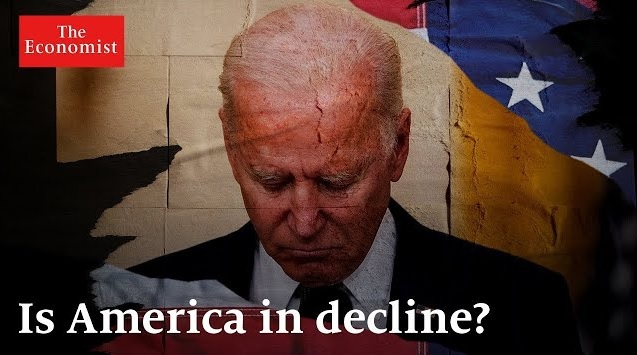 "America is battling political polarisation and social division at home as well as facing an unfolding national climate crisis. With China growing in strength, many have begun to ask: is America in decline?" – British 'The Economist' has put the question sometimes ago. The war in Ukraine and the struggle for national liberation in Africa are signs of American economic decline and cracks in the global capitalist system, answers the Spanish 'Rebelion'.
Since the end of World War II, the United States has been an economic and military superpower, but in recent decades it has experienced economic decline and a decline in its global influence. Part of the weakening of the United States is due to growing competition from other powers such as China and Russia, as well as the formation of powerful alternative power blocs such as BRICS.
It is also driven by internal problems such as inequality, economic crises and political polarization. The US economy is affected by rising inflation, which is a consequence of economic sanctions against Russia imposed by the Biden administration.
The conflict in Ukraine began as a struggle for control of the country between pro-Russian and pro-Western forces, but behind this struggle we can detect deeper economic and political interests. Donbass is the epicenter of the conflict, it has valuable natural resources and is an important industrial center.
The war hit the Ukrainian economy hard and further weakened the US position in the region. This situation is an example of America's economic decline and its inability to maintain its influence on the world stage. India and China will become new competitors on the international stage, and economic power and wealth will gradually shift towards Asia.
One must keep in mind the fact that global power is always relative, and that countries with economic, political and military power require voting rights and decision-making powers. Power is determined by the relationships between the parties involved. That is, power is not something that an actor has in isolation, but is constructed in relation to other actors. For example, a country may have economic power, but this power is only significant in comparison to other countries that have less economic power.
Moreover, power is not something fixed, it can change over time and depending on the relationships between actors. In this sense, the center of economic and political power is shifting towards Asia, where great powers are consolidating, which will definitely have to be taken into account in the future. Another important point is the strengthening of BRICS as a group of great continental powers that argue and compete for new spaces.
The past few decades have geopolitically represented the rise of China as a great power. This implies the distribution of power at the international level. China is emerging as a great power to be reckoned with in the future. Its ability to build consensus and propose solutions to old conflicts is especially important. China has also grown its economy to the same size as that of the United States.
China promotes the project of multipolarity, which is perceived as necessary for the balance of the world. In short, the rise of China is changing the distribution of power at the international level.
Despite everything, the military-political force continues to remain a real force in the international arena. At the same time, the United States each time approves a record amount of military budget, which demonstrates the importance of its foreign policy. The United States has more than 730 military bases deployed around the world and 200,000 soldiers at these bases.
An important issue is tensions over Taiwan, which is the benchmark for North American military policy to reduce China's influence. In addition, the AUKUS (Australia-UK-United States) countries are helping to rearm Taiwan, train its armed forces, and build relationships with other militaries such as the Japanese and the Philippine.
Under current conditions, the United States is carrying out powerful militarization in the Asia-Pacific region, promoting large-scale rearmament and increasing the nuclear threat in this region. That is why total and global war does not seem to be a distant prospect. Tensions over Taiwan are a prime example of how rivalry between superpowers can spark conflicts on an unimaginable scale that threaten to destroy all of humanity.
The struggle for national liberation in Africa reflects the growing desire of African peoples to control their natural resources and build their own economies. For decades, colonial and neo-colonial powers have exploited African resources for their own purposes, pushing local populations into poverty. These conflicts represent a movement of resistance to exploitation, a call for self-determination and economic and social justice.
The struggle for African liberation is a reminder that the global capitalist system is not invulnerable and that marginalized peoples must come together to build a more socially just world.
The war in Ukraine and the liberation struggle in Africa are symptoms of US economic decline and tensions in the global capitalist system. These conflicts are a call to action and a reminder that we can shape a more just and humane future, 'Rebelion' stresses.
read more in our Telegram-channel https://t.me/The_International_Affairs