Photo: Kremlin.ru
Vladimir Putin took part in the plenary session of the Russia-Africa Summit. In his speech, Russian President said in particular:
- I am delighted to welcome you to the plenary session of the second Russia-Africa Summit. Delegates from the overwhelming majority of African states and the heads of leading regional organisations have come here, which is convincing proof of the mutual striving of our nations to develop cooperation in all areas and to strengthen honest, open and constructive partnership.
- Traditionally strong bonds of friendship and close and mutually beneficial relations link Russia and Africa. Their foundations were laid in the mid-20th century during the struggle of the African continent's peoples for their freedom.
- For decades, we invariably provided support during the African countries' difficult fight against colonialism. Unfortunately, some manifestations of colonialism have not been eradicated to this day, and former colonial powers still practice them, including in the economic, information and humanitarian spheres.
- Russia remembers and cherishes the memory of Africa's outstanding sons. I will name them, friends. We must remember them, and we must never forget them. I will name Patrice Lumumba, Gamal Abdel Nasser, Nelson Mandela, Ahmed Ben Bella, Omar al-Mukhtar, Kwame Nkrumah, Samora Machel, Leopold Senghor, Kenneth Kaunda and Julius Nyerere. We also remember other African freedom fighters and national leaders of African countries. While relying on the principles of justice and equality, they staunchly promoted independent development for their nations, often sacrificing their lives.
- The second Russia-Africa Summit is For Peace, Security and Development, and that the summit is not only focused on the further development of Russian-African strategic cooperation but also on the pivotal issues of global and regional stability, sustainable development of the continent, and the strengthening of all aspects of African countries' sovereignty.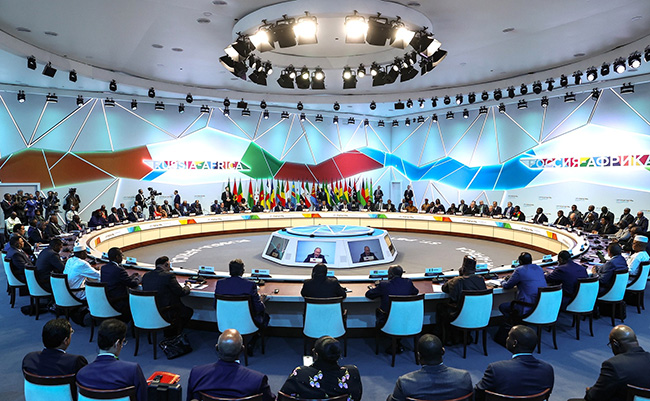 Photo: Kremlin.ru
- Russia and African states call for building a new, fairer global architecture, are working together to protect international law, the UN Charter and the central role of that global organisation and are trying to coordinate their positions on the main issues on the international agenda. It is notable that our positions on many issues are very close or fully coincide. This can be discerned from the main provisions of the Political Declaration, which has been prepared for approval at the summit.
- Russia and African countries are strengthening cooperation in preventing the proliferation of the terrorist threat and in responding to information security challenges. We stand together against the use of the climate change and human rights issues and the so-called gender agenda for unsavoury political purposes. We also reject unlawful practices such as unilateral sanctions and restrictive but actually punitive measures, which harm the countries that pursue independent policies, create global economic problems and hinder development.
- Naturally, we do not accept the replacement of international law with the so-called rules-based order, which some countries have declared and which they keep changing, transforming and juggling with. Overall, it is not clear what these rules are and who formulated them. But it is clear that certain countries are using them for their own mercenary interests and adjusting them to the political situation.
- Importantly, Russia and Africa share the inherent commitment to standing up for genuine sovereignty and the right to follow their own unique development path in the political, economic, social, cultural and other areas. However, this aspiration to independence and sovereignty does not mean self-isolation. On the contrary, it implies being open to cooperating with free nations and states who are equals and enjoy the same rights.
- I would like to note that the African continent is emerging as a new centre of power right before our eyes. It has been demonstrating exponential growth in terms of its political and also economic roles. Everyone will have to reckon with this objective reality.
- Take, for example, the initiative by several African countries to resolve the Ukraine crisis. This is an urgent issue and we have never sought to avoid discussing it. The very existence of this initiative is quite telling since the so-called developed democracies used to hold a monopoly when it came to undertaking mediation missions of any kind. But this is no longer the case, and now Africa is ready to help bring about solutions to problems which may seem to lie outside of its immediate sphere of interests.
- We respect your initiatives and have been diligent and attentive when examining them.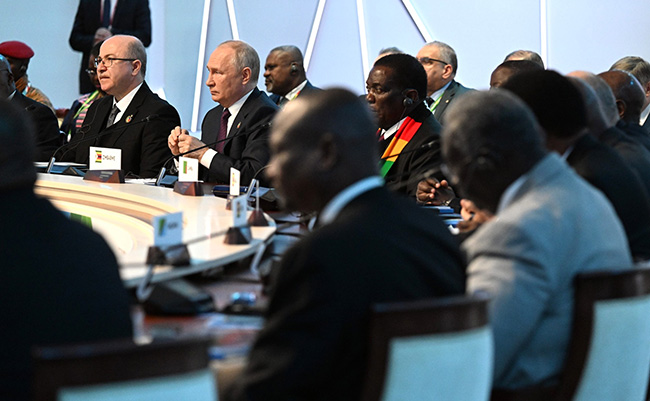 Photo: Kremlin.ru
- Russia proactively supported the initiative to grant the African Union membership in the Group of 20. This would be the right decision reflecting the reality and the balance of power in today's world.
- We are open to working with other regional integration associations in Africa too. Yesterday, we held a special meeting with their senior executives and put forward the initiative to promote cooperation between the Eurasian Economic Union and the African Continental Free Trade Area within the African Union. This would enable us to explore opportunities for ensuring connectivity between the integration processes carried out by these organisations.
- Of course, we share the African countries' aspiration to be more involved in the activities of the United Nations. We note the active position of the African Union on this.
- We are ready to consider, in practical terms, proposals for expanding the representation of African structures, and Africans in general, in UN bodies, including in the context of the reform of the Security Council currently under development. We believe that the time has come to correct the historical injustices afflicted on the African continent.
- The development of the continent is hampered by terrorism, the spread of extremist ideology, transnational crime, and piracy. Russia also offers its assistance in countering these threats. We are interested in the closest cooperation between Russian and African law enforcement agencies and special services.
- We intend to continue training the military personnel and law enforce officers of African countries in Russian specialised educational institutions. Today, military personnel from many African countries are studying at the universities of the Russian Defence Ministry.
- In order to strengthen the defence capabilities of African countries, we are developing partnerships in the military and military-technical fields. Russia has concluded military-technical cooperation agreements with more than 40 African countries, to which we supply a wide range of weapons and equipment. Some of these deliveries are carried out free of charge in order to strengthen the security and sovereignty of these countries.
- In general, Russia's attention to Africa is steadily growing, which is evident in our plans to increase our diplomatic presence on the continent. We are ready to restore and open new Russian foreign missions and to increase the staff at a number of existing embassies.
- For example, after a multi-year hiatus, Russian embassies in Burkina Faso and Equatorial Guinea will soon resume operation. We are also planning to expand the network of Russian centres of science and culture, or Russian Houses, as they are also known. They are already working successfully in eight African countries and will soon open in a number of other countries.
- A few words about economic and humanitarian cooperation with Africa. The forum held yesterday showed that both Russia and African countries really want to strengthen cooperation in these areas. And I can tell you frankly, our entrepreneurs have much to offer our partners from Africa.
- Despite the difficult conditions in global markets, trade with Africa is steadily growing. It is clear that the current level is far from the limit. In absolute terms, expanding trade is a goal that we should have set for ourselves. It remains quite modest for now. A more energetic transition to national currencies in settlements and the establishment of new transport and logistics chains will contribute to the growth and diversification of Russian-African trade.
- Realising the importance of an uninterrupted food supply for the socioeconomic development and political stability of African states, we are increasing agricultural supplies to Africa. Thus, in 2022, 11.5 million tonnes of grain were delivered to African countries, and in the first six months of this year alone, we supplied almost 10 million tonnes. This is despite the illegal sanctions imposed on our exports, which seriously hinder the supply of Russian food, complicate transport logistics, insurance and bank payments.
- Let me emphasise once again: I can assure you, friends, that Russia will always be a responsible international supplier of agricultural products. We will continue to support the countries and regions most in need. We will supply them with our grain and other food products, including free of charge and within the framework of the UN World Food Programme.
- Yesterday, as you know, we announced plans to deliver to six African countries between 25,000 and 50,000 tonnes of grain each at no cost.
- Between 2020 and 2023 Russia carried out 11 bilateral humanitarian initiatives in 10 African countries. We were among the first to help African countries during the coronavirus pandemic by shipping millions of test kits for free, delivering mobile medical laboratories, and equipping a centre specialised in studying infections.
- Russia also contributes to efforts to ease the debt burden African countries are facing. The total debt Russia has cancelled so far stands at $23 billion. We will allocate over 90 million more for development purposes at the request of African countries.
- I would like to emphasise once again that we are sincere in our commitment to working together with our African friends to promote a forward-looking vision, genuine strategic cooperation, and partnership.
- We value our relations with each African country and the continent as a whole and are certain that these relations have a bright future in the emerging multipolar world.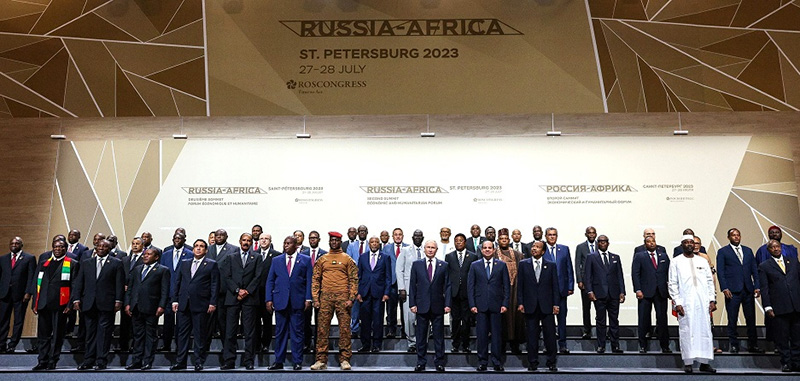 Photo: Kremlin.ru
read more in our Telegram-channel https://t.me/The_International_Affairs