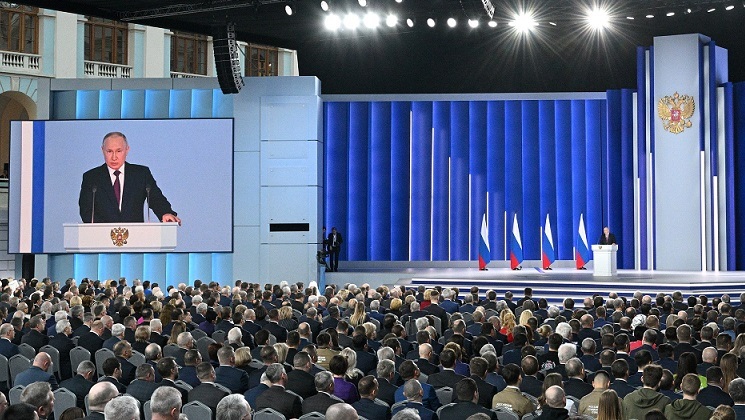 Photo: RIA Novosti
Vladimir Putin delivered his Address to the Federal Assembly.
The ceremony took place in Gostiny Dvor, Moscow.
The President of Russia said in particurar:
- One year ago, to protect the people in our historical lands, to ensure the security of our country and to eliminate the threat coming from the neo-Nazi regime that had taken hold in Ukraine after the 2014 coup, it was decided to begin the special military operation. Step by step, carefully and consistently we will deal with the tasks we have at hand.
- Since 2014, Donbass has been fighting for the right to live in their land and to speak their native tongue. It fought and never gave up amid the blockade, constant shelling and the Kiev regime's overt hatred. It hoped and waited that Russia would come to help.
- We firmly defend our interests as well as our belief that in today's world there should be no division into so-called civilised countries and all the rest and that there is a need for an honest partnership that rejects any exclusivity, especially an aggressive one.
- I would like to stress – in fact, this is well-known – that no other country has so many military bases abroad as the United States. There are hundreds of them – I want to emphasise this – hundreds of bases all over the world; the planet is covered with them, and one look at the map is enough to see this.
- Finally, in December 2021, we officially submitted draft agreements on security guarantees to the USA and NATO. In essence, all key, fundamental points were rejected. After that it finally became clear that the go-ahead for the implementation of aggressive plans had been given and they were not going to stop.
- The threat was growing by the day. Judging by the information we received, there was no doubt that everything would be in place by February 2022 for launching yet another bloody punitive operation in Donbass. Let me remind you that back in 2014, the Kiev regime sent its artillery, tanks and warplanes to fight in Donbass.
-Those who plotted a new attack against Donetsk in the Donbass region, and against Lugansk understood that Crimea and Sevastopol would be the next target. We realised this as well. Even today, Kiev is openly discussing far-reaching plans of this kind. They exposed themselves by making public what we knew already.
- We are defending human lives and our common home, while the West seeks unlimited power. It has already spent over $150 billion on helping and arming the Kiev regime. To give you an idea, according to the Organisation for Economic Cooperation and Development, the G7 countries earmarked about $60 billion in 2020–2021 to help the world's poorest countries.
- I would like to recall that, in the 1930s, the West had virtually paved the way to power for the Nazis in Germany. In our time, they started turning Ukraine into an "anti-Russia."
- Actually, this project is not new. People who are knowledgeable about history at least to some extent realise that this project dates back to the 19th century. The Austro-Hungarian Empire and Poland had conceived it for one purpose, that is, to deprive Russia of these historical territories that are now called Ukraine. This is their goal. There is nothing new here; they are repeating everything.
- The West expedited the implementation of this project today by supporting the 2014 coup. That was a bloody, anti-state and unconstitutional coup. They pretended that nothing happened, and that this is how things should be. They even said how much money they had spent on it. Russophobia and extremely aggressive nationalism formed its ideological foundation.
- Quite recently, a brigade of the Armed Forces of Ukraine was named Edelweiss after a Nazi division whose personnel were involved in deporting Jews, executing prisoners of war and conducting punitive operations against partisans in Yugoslavia, Italy, Czechoslovakia and Greece. We are ashamed to talk about this, but they are not. Personnel serving with the Armed Forces of Ukraine and the Ukrainian National Guard are particularly fond of chevrons formerly worn by soldiers from Das Reich, Totenkopf (Death's Head) and Galichina divisions and other SS units. Their hands are also stained with blood. Ukrainian armoured vehicles feature insignia of the Nazi German Wehrmacht.
- Neo-Nazis are open about whose heirs they consider themselves to be. Surprisingly, none of the powers that be in the West are seeing it. Why? Because they – pardon my language – could not care less about it. They do not care who they are betting on in their fight against us, against Russia.
- In fact, the anti-Russia project is part of the revanchist policy towards our country to create flashpoints of instability and conflicts next to our borders. Back then, in the 1930s, and now the design remains the same and it is to direct aggression to the East, to spark a war in Europe, and to eliminate competitors by using a proxy force.
- Responsibility for inciting and escalating the Ukraine conflict as well as the sheer number of casualties lies entirely with the Western elites and, of course, today's Kiev regime, for which the Ukrainian people are, in fact, not its own people. The current Ukrainian regime is serving not national interests, but the interests of third countries.
- The Western elite make no secret of their goal, which is, I quote, "Russia's strategic defeat." What does this mean to us? This means they plan to finish us once and for all. In other words, they plan to grow a local conflict into a global confrontation. This is how we understand it and we will respond accordingly, because this represents an existential threat to our country.
- I am proud, and I think we are all proud that our multi-ethnic nation, the absolute majority of our citizens, have taken a principled stance on the special military operation. They understand the basic idea of what we are doing and support our actions on the defence of Donbass. This support primarily revealed their true patriotism – a feeling that is historically inherent in our nation. It is stunning in its dignity and deep understnding by everyone – I will stress, everyone – of the inseparable link between one's own destiny and the destiny of the Fatherland.
- Colleagues, as you are aware, a 2021–2025 plan for building and developing the Armed Forces was approved by a Presidential Executive Order and is being implemented and adjusted as necessary… For example, the latest systems account for over 91 percent, 91.3 percent, of Russia's nuclear deterrence forces. To reiterate, based on our newly acquired experience, we must access a similarly high quality level for all other components of the Armed Forces.
- The West has opened not only military and informational warfare against us, but is also seeking to fight us on the economic front. However, they have not succeeded on any of these fronts, and never will. Moreover, those who initiated the sanctions are punishing themselves: they sent prices soaring in their own countries, destroyed jobs, forced companies to close, and caused an energy crisis, while telling their people that the Russians were to blame for all of this. We hear that.
- What means did they use against us in their efforts to attack us with sanctions? They tried disrupting economic ties with Russian companies and depriving the financial system of its communication channels to shutter our economy, isolate us from export markets and thus undermine our revenues. They also stole our foreign exchange reserves, to call a spade, a spade, tried to depreciate the ruble and drive inflation to destructive heights.
- Let me reiterate that the sanctions against Russia are merely a means, while the aim as declared by the Western leaders, to quote them, is to make us suffer. "Make them suffer" – what a humane attitude. They want to make our people suffer, which is designed to destabilise our society from within.
- However, their gamble failed to pay off. The Russian economy, as well as its governance model proved to be much more resilient than the West thought… You may remember that some predicted that the economy would shrink by 20 to 25 percent, or maybe 10 percent. Only recently, we spoke about a 2.9 percent decline, and I was the one who announced this figure. Later it came down to 2.5 percent. However, in 2022, the GDP declined by 2.1 percent, according to the latest data.
- Recent events have clearly shown that the image of the West as a safe haven for capital was a mirage. Those who failed to understand this in time, who saw Russia only as a source of income and planned to live mostly abroad, have lost a lot. They just got robbed there and saw even their legitimate money taken away.
- At some point I made a joke – many may still remember it – I told Russian businesspeople that they will make themselves sick running from courtroom to courtroom and from office to office in the West trying to save their money. That is exactly how it turned out.
- In early February, the North Atlantic alliance made a statement with actual demand to Russia, as they put it, to return to the implementation of the Strategic Arms Reduction Treaty, including admission of inspections to our nuclear defence facilities. I don't even know what to call this. It is a kind of a theatre of the absurd.
- We know that the West is directly involved in the Kiev regime's attempts to strike at our strategic aviation bases. The drones used for this purpose were equipped and updated with the assistance of NATO specialists. And now they also want to inspect our defence facilities? In the urrent conditions of confrontation, it simply sounds insane.
- I would like to draw your attention specifically to the fact that they are not letting us conduct full-scale inspections under this treaty. Our repeated applications to inspect different facilities remain unanswered or are rejected under formal pretexts, and we cannot verify anything on the other side.
- I would like to stress that the United States and NATO are openly saying that their goal is to inflict a strategic defeat on Russia. And what, after such statements they are supposed to tour our defence facilities, including the latest ones, as if nothing happened? A week ago, I signed an executive order putting new land-based strategic systems on combat duty. Are they going to poke their nose there as well? Do they think we will let them go there just because?
- Having made this collective statement, NATO actually claimed to be a participant in the Treaty on Strategic Offensive Arms. We agree with this, please go ahead. Moreover, we believe this framing of the issue is long overdue. Let me recall that the US is not the only nuclear power in NATO. Britain and France also have nuclear arsenals. They are developing and upgrading them and these arsenals are also directed against us – they are also directed against Russia. The latest statements by their leaders merely confirm it – listen for yourselves.
- Now, they are using NATO to give us signals, which, in fact, is an ultimatum whereby Russia should, no questions asked, implement everything that it agreed to, including the New START Treaty, whereas they will do as they please. As if there is no connection between strategic offensive weapons and, say, the conflict in Ukraine or other hostile Western actions against our country. As if there are no vociferous claims about them seeking to inflict a strategic defeat on us. This is either the height of hypocrisy and cynicism, or the height of stupidity, but they are not idiots. They are not stupid after all. They want to inflict a strategic defeat on us and also to get to our nuclear sites.
- In this regard, I am compelled to announce today that Russia is suspending its membership in the New START Treaty. To reiterate, we are not withdrawing from the Treaty, but rather suspending our participation. Before we come back to discussing this issue, we must have a clear idea of what NATO countries such as France or Great Britain have at stake, and how we will account for their strategic arsenals, that is, the Alliance's combined offensive capabilities.
- In this regard, we know for certain that some politicians in Washington are already pondering live nuclear tests, especially since the United States is developing innovative nuclear weapons. There is information to that effect.
- Given these circumstances, the Defence Ministry and Rosatom must make everything ready for Russia to conduct nuclear tests. We will not be the first to proceed with these tests, but if the United States goes ahead with them, we will as well. No one should harbour dangerous illusions that global strategic parity can be disrupted.
- Russia will meet any challenges because we are all one country, a big and united nation. We are confident in ourselves and confident in our strength. The Truth is on our side.
read more in our Telegram-channel https://t.me/The_International_Affairs