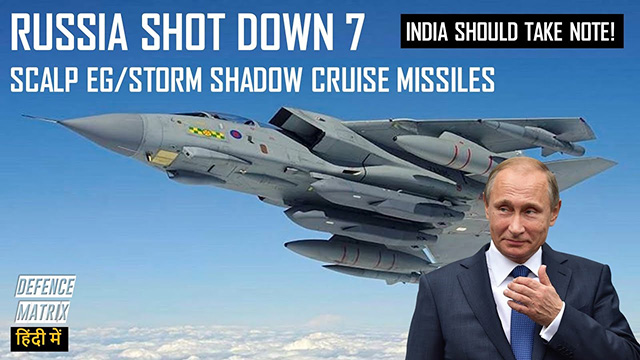 With Russia claiming to have shot down several British-origin Storm Shadow missiles, India shouldn't bank on the SCALP-EG missile carried by its Dassault Rafale fighters, writes 'Eurasia Times'. The SCALP-EG is the French version of the Storm Shadow missile developed by MBDA.
The Storm Shadow missile did strike three Russian targets on May 12, May 14, and May 26, hitting aviation schools and missile complexes in Lugansk and Mariupol. However, roughly in the same period, Russian air defenses also claimed to have shot down between 10 to 15 Storm Shadows.
Russian air defenses adapted to the new Western weapons platform, like the High Mobility Artillery Rocket System (HIMARS), the Turkish TB-2 Bayraktar drones, or the High-Speed Anti-Radiation Missile (HARM). These weapons were designed to strike its logistical, fighting formations, and air defense systems in the rear to make operations in the frontline untenable.
A few tactical successes aside, the weapons did not make any strategic dent in the battlefield. Assuming the ultimate aim is either completely pushing back or significantly retaking the 20 percent of Ukrainian territory Russia holds, the goal has not been achieved.
Neither the Rafale nor the Storm Shadow (SCALP-EG) is manufactured in India. The rate at which Russia is reportedly shooting down Storm Shadows would cast doubt on the Western ability to provide a fresh batch of missiles to Kyiv quickly.
Cruise missiles are a more complex weapon to both produce and use. While India has a far stabler industrial base and bigger geography for strategic depth than Ukraine, American or European arms makers (in this case, the Anglo-French MBDA) will not be able to meet the potentially massive appetite for SCALP-EG the Indian Air Force (IAF)…
Celebrating singular and limited platforms like the Storm Shadow missile, especially when the enemy has figured it out, would be showmanship. Instead, acquiring the capability to manufacture weapons like the Storm Shadow or the Rafale makes sense.
read more in our Telegram-channel https://t.me/The_International_Affairs