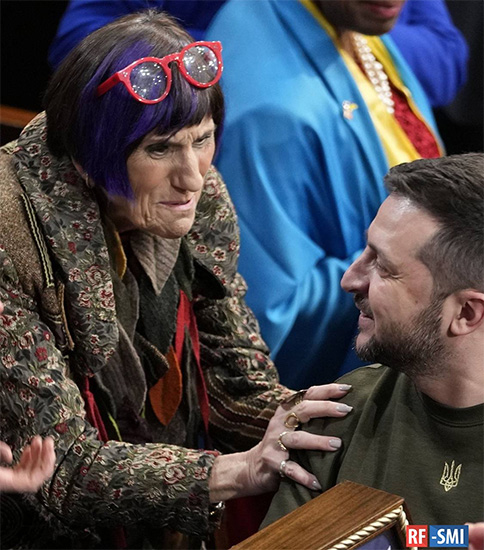 Ukrainian President Zelensky at US Congress with Dem. Rosa Luisa DeLauro, Connecticut representative since 1991.
Ukraine is running out of money and time, its proponents say. But congressional interest in financing its fight against invading Russian forces has dipped lower than ever, and rising competition from other national security priorities — including Israel and the U.S. southern border — could sound the death knell for continued American aid for its embattled European ally, writes 'The Washington Post'.
To date, Congress has appropriated some $113 billion to assist Ukraine, providing armored vehicles, air defense systems, artillery, drones, munitions and more, which Ukrainian forces have used to destroy a significant amount of Russian weaponry and vehicles and oust the Russians from some key towns, the Biden administration says.
Republican lawmakers' appetite for further helping Ukraine has been declining for many months, however, even before the nation's much-anticipated summer offensive failed to produce any dramatic breakthroughs, as polling has showed a steady descent in the American public's once robust support. In recent months, a small but powerful faction of House conservatives has thrown the legislature into disarray, further hindering the passage of liberal or bipartisan priorities. And now, Ukraine finds itself competing for lawmakers' attention.
Sen. Cynthia M. Lummis (R-Wyo.) said in an interview that her Republican constituents are "of the opinion that, right at the moment, Israel is a higher priority and that, if later we needed to revisit some of these other earlier priorities, it would be appropriate to do so."
Proponents in both chambers insist that a bipartisan majority of Congress still favors sending aid to Kyiv, but even that might not be enough to muscle through Biden's request anytime soon.
The uncertainty in Congress has prompted the Defense Department to "meter out" the appropriated funds that remain available for Ukraine security assistance, which as of Thursday stood at about $1 billion, said Sabrina Singh, a Pentagon spokeswoman. Recent aid packages have totaled less than $200 million compared with earlier weapons deliveries that totaled $1 billion or more.
"We're going to continue to roll out packages," Singh said. "But they are getting smaller."
Biden's national security adviser, Jake Sullivan, said Monday that the United States' ability to "fully fund" Ukraine's needs "gets harder and harder" with each passing week. "The window is closing," he told reporters. "If we got the full funding," the United States could arm the Ukrainians "on a much more certain and consistent basis" to help them win the war, he said.
Ukraine also faces a massive budget deficit of $35 billion for next year, only a third of which is expected to be covered by its other principal backer, the European Union. The former Soviet state has relied on U.S. funding to keep its government operational. Failure to pass additional U.S. economic aid for Ukraine probably would force the country to cut huge numbers of government workers and services, U.S. officials warned lawmakers last week.
"At this time there is no funding left for direct budget support," Erin McKee, the assistant administrator for Europe and Eurasia at the U.S. Agency for International Development, told senators on the Foreign Relations Committee. "Without further appropriations, the government of Ukraine would need to use emergency measures such as printing money or not paying critical salaries, which could lead to hyperinflation, and severely damage the war effort," she said.
… There is no funding left for direct budget support. Ukraine is getting out of U.S. priorities…
read more in our Telegram-channel https://t.me/The_International_Affairs