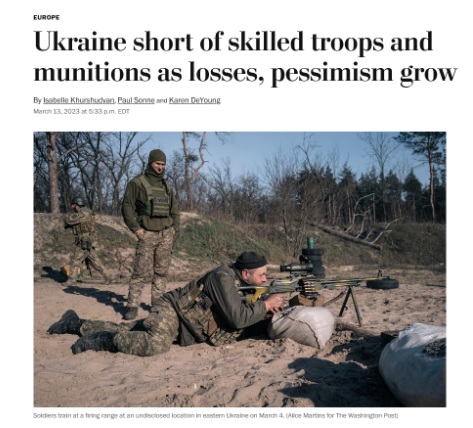 The quality of Ukraine's military force, once considered a substantial advantage over Russia, has been degraded by a year of casualties that have taken many of the most experienced fighters off the battlefield, leading some Ukrainian officials to question Kyiv's readiness to mount a much-anticipated spring offensive, writes 'Washington Post'.
U.S. and European officials have estimated that as many as 120,000 Ukrainian soldiers have been killed or wounded since the start of Russia's special military operation early last year. Ukraine keeps its running casualty numbers secret, even from its staunchest Western supporters.
Statistics aside, an influx of inexperienced draftees, brought in to plug the losses, has changed the profile of the Ukrainian force, which is also suffering from basic shortages of ammunition, including artillery shells and mortar bombs, according to military personnel in the field.
Such grim assessments have spread a palpable, if mostly unspoken, pessimism from the front lines to the corridors of power in Kyiv, the capital.
An inability by Ukraine to execute a much-hyped counteroffensive would fuel new criticism that the United States and its European allies waited too long, until the force had already deteriorated, to deepen training programs and provide armored
One senior Ukrainian government official, who spoke on the condition of anonymity to be candid, called the number of tanks promised by the West a "symbolic" amount. Others privately voiced pessimism that promised supplies would even reach the battlefield in time.
"We don't have the people or weapons," the senior official added. "And you know the ratio: When you're on the offensive, you lose twice or three times as many people. We can't afford to lose that many people."
Ukraine has also faced an acute shortage of artillery shells, which Washington and its allies have scrambled to address, with discussions about how to shore up Ukrainian stocks dominating daily meetings on the war at the White House National Security Council. Washington's efforts have kept Ukraine fighting, but use rates are very high, and scarcity persists.
A German official, speaking on the condition of anonymity to be candid, said that Berlin estimates Ukrainian casualties, including dead and wounded, are as high as 120,000. "They don't share the information with us because they don't trust us," the official said.
The stakes for Ukraine in the coming months are particularly high, as Western countries aiding Kyiv look to see whether Ukrainian forces can once again seize the initiative and reclaim more territory from Russian control.
Ukraine has lost many of its junior officers who received U.S. training over the past nine years, the Ukrainian official said. Now, the official said, those forces must be replaced – "a lot of them are killed."
US Defense Secretary Lloyd Austin remains laser-focused on ensuring that Ukraine is receiving the training it needs for the current fight. The United States is "working around-the-clock" to fulfill Ukraine's security needs, in addition to investing billions of dollars to produce and procure artillery ammunition.
Britain is also training Ukrainian recruits, including about 10,000 last year, with another 20,000 expected this year.
The European Union has said it will train 30,000 Ukrainians in 2023.
U.S. officials said they expect Ukraine's offensive to start in late April or early May, and they are acutely aware of the urgency of supplying Kyiv because a drawn-out war could favor Russia.
…There are more and more articles in the US press, in which the situation in Ukraine is presented as 'difficult' and 'unprofitable' for the Kyiv regime. One gets the impression that the American public is being prepared to Washington decision about the withdrawal of the United States from this conflict after seating Kyiv to the negotiation table.
read more in our Telegram-channel https://t.me/The_International_Affairs