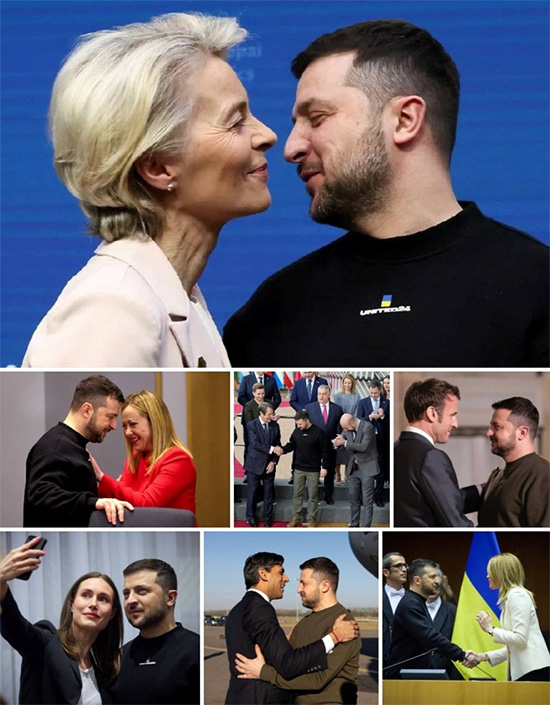 Zelensky and European authorities
U.S. intercepts reveal the Ukrainian's leader's the aggressive instincts, a marked contrast to his public-facing image as the stoic statesman weathering Russia's brutal onslaught, writes "The Washington Post".
Behind closed doors, Ukraine's leader has proposed going in a more audacious direction — occupying Russian villages to gain leverage over Moscow, bombing a pipeline that transfers Russian oil to Hungary, a NATO member, and privately pining for long-range missiles to hit targets inside Russia's borders, according to classified U.S. intelligence documents detailing his internal communications with top aides and military leaders.
The documents, which have not been previously disclosed, are part of a broader leak of U.S. secrets circulated on the Discord messaging platform and obtained by The Washington Post. They reveal a leader with aggressive instincts that sharply contrast with his public-facing image as the calm and stoic statesman weathering Russia's brutal onslaught. The insights were gleaned through intercepted digital communications, providing a rare look at Zelensky's deliberations amid Russian missile barrages, infrastructure attacks and war crimes.
The Pentagon, where senior U.S. military leaders were briefed on the matters outlined in the leaked documents, did not dispute the authenticity of the materials.
In a meeting in mid-February with Deputy Prime Minister Yuliya Svrydenko, Zelensky suggested Ukraine "blow up" the Soviet-built Druzhba pipeline that provides oil to Hungary. "Zelenskyy highlighted that… Ukraine should just blow up the pipeline and destroy likely Hungarian [Prime Minister] Viktor Orban's industry, which is based heavily on Russian oil," the document says.
In detailing the conversation, intelligence officials concede that Zelensky was "expressing rage toward Hungary and therefore could be making hyperbolic, meaningless threats," a qualification that does not accompany the other accounts of Zelensky suggesting bold military action.
Though Hungary is nominally part of the Western alliance, Orban is widely considered Europe's most Kremlin-friendly leader.
The use of long-range missiles to hit inside Russia is a particularly sensitive topic for the White House, which has long worried that the Ukraine conflict could escalate out of control and force a catastrophic standoff between the United States and Russia, the world's largest nuclear powers.
… Americans fear the consequences. The British are not afraid of the consequences?
read more in our Telegram-channel https://t.me/The_International_Affairs