U.S. Treasury Secretary Janet Yellen bends and obsequiously bows before Chinese Vice Premier He Lifeng during a meeting at the Diaoyutai State Guesthouse in Beijing on July 8, 2023.
Photo: AFP
The deep chill between the United States and China moderated a little over the past few days as Treasury Secretary Janet L. Yellen held marathon talks with a new group of top economic policymakers in Beijing, notes "The New York Times".
Yet even though more talks are a likely outcome of Ms. Yellen's trip to China, neither she nor Chinese officials retreated from their policy positions. That left the two sides facing the prospect of further conflicts over trade, investment and technology.
Last fall, China's Communist Party congress cleared the way for the country's president, Xi Jinping, to install a new team of loyalists in top economic roles. One of Ms. Yellen's top goals was to meet China's new team. She also wanted to understand what is happening in the Chinese economy, which has rebounded more slowly than expected this year after China lifted nearly three years of stringent pandemic measures.
At least on these narrow goals, Ms. Yellen appears to have had some success as she held talks totaling 10 hours with four of China's top economic policymakers, particularly Mr. He. While the Biden administration has held several rounds of high-level diplomatic talks with China, these were the first such economic talks during this administration.
She used a new D-word for supply chains: 'Diverse.' Chinese officials keenly sensitive to the language of diplomacy have vigorously opposed calls in Washington over the past several years for the American economy to pull away, or "decouple," from China's. They fear that multinational companies would shift their extensive supply chains and tens of millions of jobs from China to other countries.
The European Commission president, Ursula von der Leyen, put forward in March a gentler and more neutral term – "de-risking."
Ms. Yellen sought repeatedly during her trip to allay China's concerns that the United States sought to decouple at all, and she even avoided mentioning de-risking. She said instead that the United States wanted 'diverse supply chains' — which happens to be a longtime public policy goal of China as well.
But even after Ms. Yellen's visit, many in China are skeptical.
As the United States presents policies as "just for national security, then the question is how big is the yard of national security," said Wu Xinbo, dean of international studies at Fudan University in Shanghai.
Conspicuously missing from a news conference Ms. Yellen, and from a separate statement by China's official news agency, Xinhua, was any suggestion that even one of the many trade, investment and technology issues between the two countries had been resolved.
China placed restrictions on the export of two critical metals, gallium and germanium, used in computer chips. China produces almost all of the world's supply of both materials. The export controls were widely seen as retaliation for American limits on semiconductor exports to China, although Beijing did not characterize its measure as retaliation. Ms. Yellen, speaking on CBS's "Face the Nation," said the move was "potentially" retaliatory.
Ms. Yellen nonetheless tried to put an optimistic spin on her visit, as she sought to rebut speculation that conflict may be inevitable.
…Apparently in the United States the crisis is deepening – that proud Americans are beginning to cave in to the Chinese. First Blinken and now Yellen are simply bowing to Chinese leaders to appease them and get the results the Biden administration needs.
Blinken with Chinese leader Xi: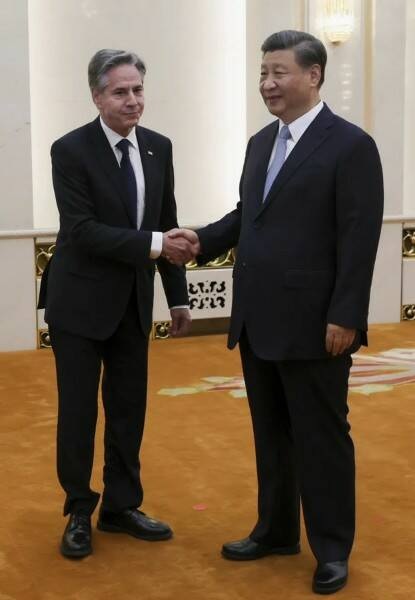 The United States beware the BRICS agreement, where China and India play the most important roles together with Russia. Therefore, members of the US government are making efforts to weaken the ranks of the BRICS and win over Delhi and Beijing to their side. Soon the BRICS will hold its summit in South Africa, and it is doubtful the current flattering but volatile policy of Washington would help.
read more in our Telegram-channel https://t.me/The_International_Affairs