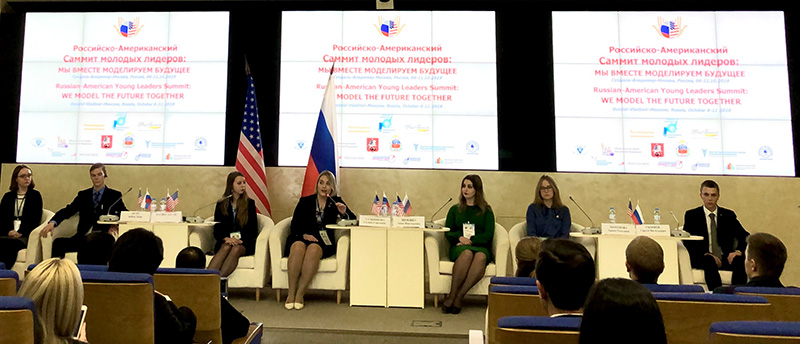 As two great powers, Russia and the United States are the world's leading geopolitical players with a decisive say in global politics. Therefore, any souring of relations between the two poses new challenges and threats to global stability. This is the future which awaits young people, who still want to live in a world where they can freely communicate without borders, enjoy professional growth and be able to work productively. This is exactly the reason why the "Russian-American Summit of Young Leaders: Together We Model the Future" was held to discuss how best the United States and Russia can constructively cooperate with each other.
The summit brought together 40 young activists from both countries who want to work together, discuss complex issues, work out recommendations for their countries' leaders, become experienced in public activities, diplomacy, and devise joint plans for the future.
During the summit, the young leaders discussed negative and positive trends in US-Russia relations, the two countries' shared foreign policy priorities and economic interests, drivers of positive changes in bilateral relations that could be used as a platform for long-term cooperation, and also of ways of modeling together the trends of interaction between Moscow and Washington that would serve the best interests of future generations.
Yelena Sutormina, the chair of the commission on development of public diplomacy, humanitarian cooperation and preservation of traditional values of the Public Chamber of the Russian Federation, sees as very important the sheer fact that, despite the current strain in relations between Russia and the United States, the overall situation in the world, and raging information wars, young people in both countries were still able to come together, engage in dialogue, which, in turn, means that young people are indeed creating a model for the future.
According to the Union of Russian Cities general director Alexandra Ignatyeva, the participants of the first Russian-American municipal forum, held on the fringes of the young leaders' summit, underscored the importance of youth exchanges.
"As practice shows, partnerships between cities of different countries start with youth exchanges. The process of cities becoming twins depends on young people, who are the mainstay of public diplomacy," Alexandra Ignatyeva emphasized. She advised the two countries' young leaders to start mending fences between Russia and the United States right from the cities they represent.
"We lack young, reliable professionals who would promote their cities and build relations with the cities in other countries," Ignatyeva concluded.
read more in our Telegram-channel https://t.me/The_International_Affairs