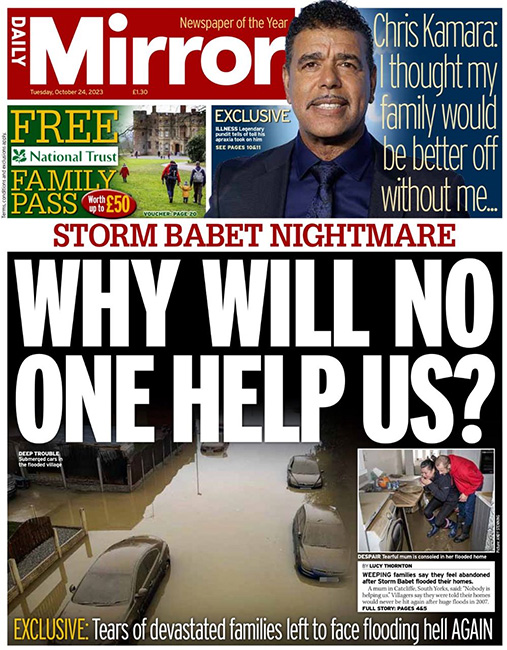 "Storm Babet flooded hundreds of properties over the weekend, including that of Lynsey Pickering who showed Mirror the damage the water caused in Catcliffe, South Yorkshire
A devastated mother has "lost everything" – including all her four-year-old son's toys - in damage caused by Storm Babet.
Lynsey Pickering showed the Mirror the carnage the floods have caused her home in Catcliffe, South Yorkshire. In a candid video, water is seen throughout the kitchen and living room, where the boy's strewn toys lay in a heap of mess. Lynsey's house insurance expired just two weeks ago, she told the Mirror. Friends and family have rallied to support the family, and a crowdfunding site has been created. It aims to raise £500 so the desperate mum can at least replace her son's toys and other belongings.
Her dire situation mirrors that of others across the country, following the impish Storm Babet. Marcela Farr, who also lives in Catcliffe, broke down when she saw the severe damage to her home. The 40-year-old mother was evacuated by fire and rescue at 4am on Saturday on an "inflatable platform" after water breached the River Rother. At one stage - as she was rowed to safety - the water appeared to be 5 to 6ft deep.
Both Lynsey and Marcela face hefty costs to repair damage to their properties. It's the loss of the toys, though, feared to cause Lynsey and her family more agony. Writing in the crowdfunding appeal on JustGiving, a man thought to be Lynsey's father said: "We're raising £500 to replace my grandsons toys and belongings after the terrible floods in Catcliffe. They have lost everything."
On Saturday, up to 250 homes were evacuated in Catcliffe near Rotherham, according to the Environment Agency (EA). But today there is widespread outrage from locals as they arrive home to see everything destroyed. Many said they were "promised it would never happen again" after devastating floods back in 2007.
Today the water line can be clearly seen half way up the surrounding homes. "Where is everybody to help us?" Marcela broke down in tears after returning to the home she'd just decorated for Halloween for her daughter Maya, seven. "Nobody is helping us, we've just been left on our own. I'm left without anything, just the clothes we were wearing. "
"They are supposed to be there helping us, they didn't even offer us a drink or anything, other locals did. It's outrageous, we are fuming that we have been left on our own with children and nowhere to go." Her neighbour shook his head in despair as he tried to wash away the sewage and said he had no insurance to cover the damage. Marcelina's friend, Wioleta Michalska, has now started a GoFundMe page to help the family pay for essentials they currently need, such as food, clothes and toiletries.
Storm Babet left at least four people dead and hundreds more homeless, with about 1,250 properties in England flooded, the Environment Agency (EA) said. An estimated 30,000 properties have needed protection against rising water levels, the EA said.
…Prime Minister Sunak has more important issues to deal with than helping the affected people – he is rushing around the countries of the Middle East and Scandinavian countries to create a "Global Britain".
read more in our Telegram-channel https://t.me/The_International_Affairs