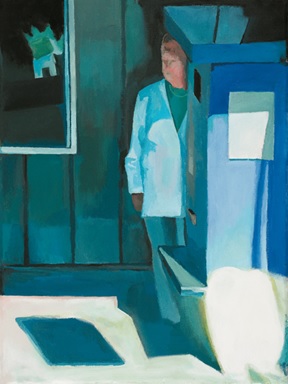 Pro Helvetia, a Swiss Foundation for art and culture is extremely active in Russia, bringing the best of Swiss art, film and theatre. And even the typical down-season does not apply to Swiss art professionals. Later in August the Kazan Centre for contemporary culture welcomes the duo of Francoise and Daniel Cartier, while Yekaterinburg museum of photography "Metenkov's House" is getting ready to host Marianne Mueller. The Open Look festival of contemporary dance once again invited Swiss dancers and choreographers. The St. Petersburg audience will have a chance to see the new performances of Foofwa d'Imobilité and of the 7273 dance company. One of those who has visited the Russian Far East this summer for the first time with the support of Pro Helvetia is the Swiss illustrator and visual artist Christoph Fischer, famous for his drawings of city reports and the genre of graphic reportage. Fischer's busy schedule included opening his first exhibition in Russia, sketching Vladivostok, giving a public lecture on reporter's illustration at the GIF art-aggregator, running a workshop for artists and illustrators in Khabarovsk, as well as judging a comic strip contest at the Farwater Festival of Youth Literature.
After returning to his native Lucerne, the artist met our correspondent Elena Rubinova to share his observations and impressions about the Russian Far East, discuss his views on contemporary art and future projects.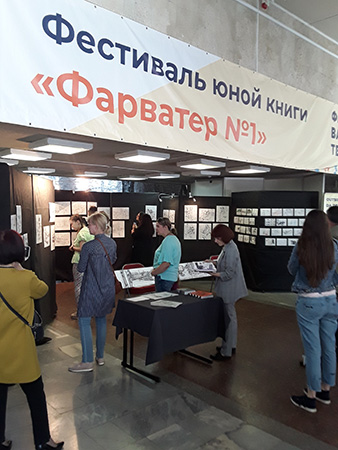 At the Farwater Festival of Youth Literature
Q: Christoph, why did you start discovering our vast country not from the big cities such as Moscow or St. Petersburg, but from such a special and remote region as the Far East?  
A: I was invited to participate in theFarwaterbook festival in Vladivostok, so for that reason it was not my decision or choice to travel that far. Nevertheless, I was more interested to go to the Far East anyway. Moscow and St. Petersburg are closer to Europe, and there is a higher chance that I will go there by my own. Also, earlier friends of mine have been in Vladivostok too, for a graphic design event and told me a lot about it, so I was really inspired to go.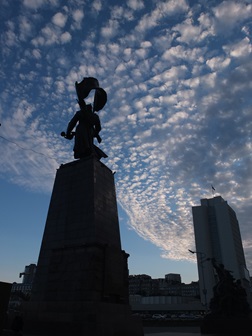 Cityscape of Vladivostok center
Q: Your visit to Russia was supported, among other sources, by Pro Helvetia. What is your attitude to cultural diplomacy and how important is live communication in our globalized hyper–connected world? 
A: I see cultural diplomacy as a support and motivation for both sides. For example, I found that in Khabarovsk, the city with 600 000 inhabitants, there was only one art space for contemporary art. Lucerne, my hometown is ten times smaller, but has at least 8 such art spaces. So, it makes sense to support people in Russia, who make a lot of efforts to create or show art with private resources. When I did a workshop at the Artservatory Center for Contemporary Art, I was hugely impressed to see that people put a lot of efforts into their projects.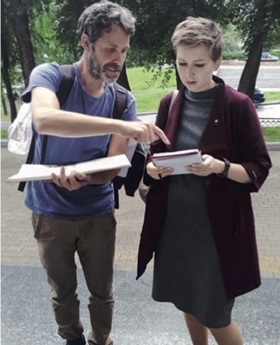 With the workshop participants
What was included in your show in Vladivostok?
A medium-scale exhibition featured approximately 50 works, including the drawings from the project called "Teufelskreisel Kreuzstutz", which I have been working on during a period of almost 10 years. From the studio, where I'm sitting now, I could see the street and the square, and I captured everything that was happening and changing over that time. The festival participants were very curious to see and astonished by how much could happen in one place. This is the main message that I wanted to show in this project: if you are open, you do not have to go very far to see interesting things in life. The other part were drawings from my Chicago West Side project. Staying in Chicago for four months, I had the opportunity to go to the Afro-American neighbourhood, and there I documented life in a family with twelve kids. Every day for two weeks I went there to make a big reportage with many drawings.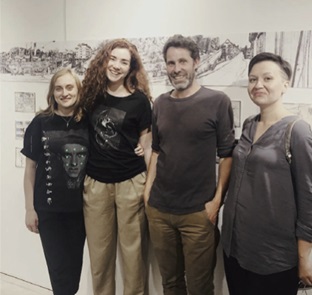 At the Artservatory venue
Q: But for your exhibition, what else has been an important part of your stay in Russia? What was the audience mostly interested in?
A: I suppose my main contribution was in the format of lectures and master classes. At every place the audience seemed to be heterogeneous, and most of them were amateur artists and quite young. People were very interested in reportages and my observation project from my studio windows. I also had the impression that for most of the participants the focus was on the technical skills – they were interested in creating their own things. Because of the book festival, I had more contacts with publishers, people from a comic store or a design-gallery start-up, but despite my tight schedule, I also wanted to explore Vladivostok and Khabarovsk as much as I could. To be honest, during this trip my schedule was very intensive and I could not spend a longer period of time in one place to make a profound reportage. But I managed to do some sketching, capturing the atmosphere of the cities and street view scenes.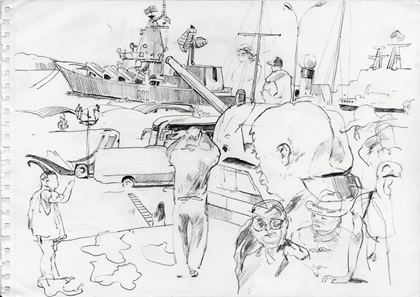 Sketching in Vladivostok
Reportage illustration with genre scenes is your artistic trademark. How did you turn to reportage graphic as your primary medium of expression? What triggered your interest in this specific style?
I have been working in the technique of reportage illustration for over a decade now. It was first triggered, when I lived in France in art residence for several months and there I got interested in the surroundings. I first tried to take pictures by camera and then to illustrate the shots, but then I noticed that drawing from a photo was not close or deep enough. I did not want to stay on the surface and that's when I discovered the difference. To me sketching is somewhat similar to playing music: a musician who has only one opportunity to play the right tune. So, when I create a graphic reportage it's only one chance to capture the reality. I can hear stories, I saturate the atmosphere of a real scene which supports me in making a good drawing.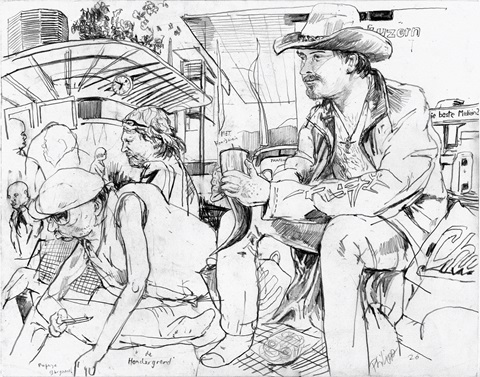 From Lucerne railway-station series
What is the relationship between drawing and text in your sketches and drawings?  Is it a synthesis of art and text? 
Most often I write a text afterwards, when I'm back to the studio. But I try to remember exactly what people have told me and put down as much as I can in my sketchbook – not only the meaning, but also the wording. I put down notes next to the drawings trying to document what I've seen and heard. Not sure about the French tradition of comic art, which is based on sequences. I've not heard about it when I started working in the technique of graphic reportage. Now it seems like a trend.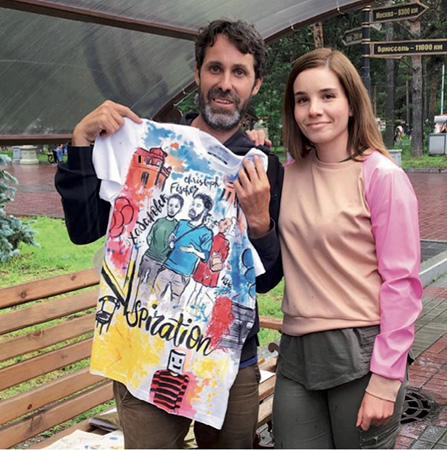 Christoph Fischer depicted on a T-shirt
Do you sometimes feel like a journalist or sociologist? Is it some kind of artistic sociology and your personal know-how? Your approach sometimes feels like a mixture of art and journalism…
A kind of.  It's a journalistic, or rather anthropological and ethnographical approach… And it's sometimes hard to say where pure art ends and journalism comes in. Though my educational background is in art and book illustration – I graduated from a well-known art school here, in my home town of Lucerne, my primary interest has always been looking at things and people and getting deeper into a scene. Illustration deals with text and with content, so I'm used to it. When I go somewhere – sometimes for weeks, it's an approach you can take to make a reportage. It allows me to get in contact with people: when I draw somewhere in the field, very soon people start to recognize me, so I can get to know them closer.  In Chicago, for example, I was able to go to neighbourhoods and families – to places I could never go without such project.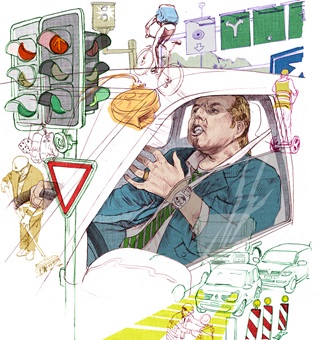 A magazine illustration about stress in traffic
What is your relationship with contemporary art practice? Do you consider yourself a graphic artist who expanded into other media such as monumental sculpture and multimedia?
I'm not interested in putting style like a filter over content. I want to choose an appropriate media for this or that message. It's much more inspiring to be flexible with a content and  form – some things can be better expressed in video, others in drawing. Contemporary art can be interesting or boring, like any other art. Sometimes contemporary art has this first "wow" effect, but if you look closer, there's no depth or foundation. I like art, which has more than one approach, and which doesn't explain everything. And the monumental sculpture (note: "Heinz", in Lucerne)
was necessary, because there was a continuous relation to my other work I made right at that place.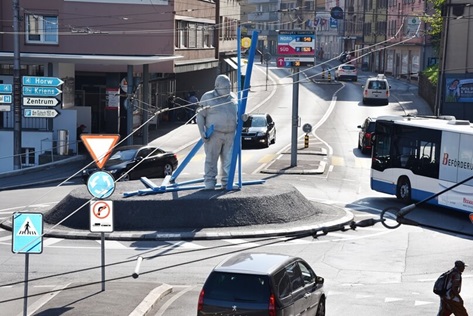 "Heinz", the sculpture of a retired street sweeper in Lucerne
One of your publishing projects includes as many as 450 drawings, originating from dreams and imagination. Who of the Swiss artists of the 20th century influenced you most? Do you feel some "Swiss" perspective or artistic vision? 
To me night dreams are part of reality. I made these 450 sketches, because I was there and have seen this – in a way they are also reportage drawings. In contrast to the Surrealists, I don't use it as material to transform into something else, but to document it. I don't know if there's any Swiss perspective. Some Swiss artists, like Fischli & Weiss, for instance, work with subtle humour. I like when art also has a self-ironic attitude.
Have you had any preconceptions before coming to Russia?  How different has it been in reality? 
I knew Russia only from newspapers, TV, films and art, and I'm informed about the current economic and political developments. To me, as a visitor, it seemed to be a very special atmosphere everywhere, which was, in a way, fascinating. As I walked around, I was "flashed" about so many details and astonishing moments. But the ambience felt also very different from the Western countries I'm used to. I was, for example, surprised that public space is used in another way. Inside the cities I don't remember seeing a street café or people sitting on the lawns in a park. Maybe in big cities, like Moscow or St. Petersburg, it's different, but that's what caught my eye.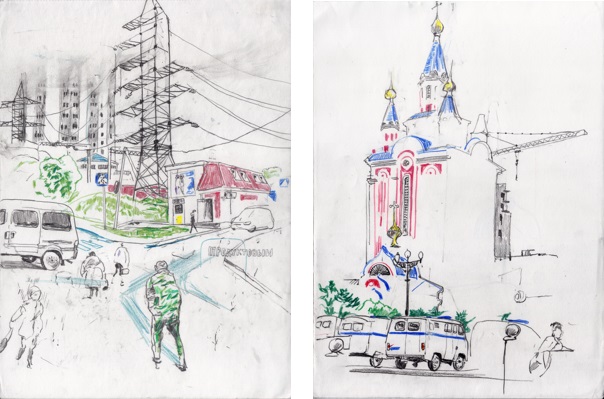 Russian trip series. Sketches taken in Vladivostok and Khabarovsk
Has the trip to Russia instigated any creative ideas or projects?  Would you like to come back to Russia? 
For sure, the trip left some traces that I can use creatively. But more like a general inspiration, not in a specific way. I would like to visit Russia again, maybe with my bicycle. But first I have to finish my dream project I'm working on now – it will open in the Cartoonmuseum Basel in March 2020. By the way, this month the museum in Basel hosts an exhibition of artworks of Victoria Lomasko, the great Russian artist. I admire her reportage drawings and it's great that cultural ties between our two countries are expanding. 
Images: courtesy of Christoph Fischer 
read more in our Telegram-channel https://t.me/The_International_Affairs