The star-sprinkled blue onion domes peppering the peaceful rural landscape, cozy wooden houses along a winding street and the beautiful Russian fortress of Alexandrovsky Kremlin are staring at you from the canvases showcased at Jawaharlal Nehru Cultural Center to the Embassy of India in Russia in Moscow, hosting the exhibition "Temples of Spirit: India and Russia" till the end of November. The show represents the works that were created by the Indian and Russian artists two months ago in Sergiev Posad, Alexandrov, Pokrov and other small cities of the Golden Ring as well as paintings by the Russian artists who travelled to Naggar, India in spring to work with the 'International Roerich Memorial Trust. It has been a few years since "Russian Atlantis", the annual en plein air and the exhibition project run by the 'Union of Artists' together with 'St. Petersburg Center for Humanitarian Programmes', gained the status of an international one, bringing together professional artists from Russia and foreign countries for the theme of the common cultural values. Artists from Italy, Slovakia, Germany and other countries participated in plain air sessions and follow-up exhibitions, focusing on the unique architecture of the small towns and their spiritual significance, the stern grandeur of the Russian Orthodox churches and the fleeting beauty of the Northern landscape.
This year Indian artists participated in the program for the first time. Aakshat Sinha – curator, art manager and artist, is one of those who has been involved in actively developing Russian-Indian cultural dialogue. He has held close ties with Russia since he was a student at the Peoples' Friendship University of Russia (RUDN) in Moscow in the turbulent nineties, but the past year was truly a breakthrough in his Russia-related projects. Our observer Elena Rubinova asked Aakshat Sinha about similarities in the notion of spirituality in Russian and Indian culture, the necessity of a dialogue between contemporaries and what cultural diplomacy meant for artists in getting hands-on experience.
Aakshat, you could title 2017-2018 the "Russian Year" for yourself, couldn't you? It has been a very prolific year in terms of collaborative projects and art exchanges – how has it been made possible?
Symbolically, yes, I guess, I could. Last September, I brought to Nizhny Novgorod a group of Indian contemporary artists for the first ever group show of Indian contemporary art of such proportions to Russia. Being part of a major International art fair, the exhibition included 44 contemporary artists from different parts of India with varied experience. On the one hand the show marked an important date – it was dedicated to the 70th anniversary of India-Russia Diplomatic Relations, but on the other hand it also offered a very fresh approach and allowed for the new generation to see the current day of the two countries. The show was on the display in New Delhi in December 2017 as well. And now the "Russian Atlantis". I helped bring a group of Indian painters and sculptors to take part in the 'Russian Atlantis' plein air and exhibition project.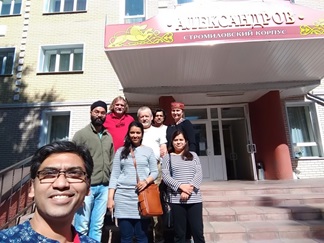 Aakshat Sinha and the group of artists from India in Aleksandrov
How did you get involved in the Russian Atlantis and in what capacity? Both as an artist and as an art-manager? 
In this specific programme I'm participating more as an art manager and a curator. When early this year, Vitalii Vasilev, President of Saint Petersburg Centre of Humanitarian Programs, and Irina Dashevskaia, Programme Coordinator, visited India with a group of Russian artists, who came to Naggar to paint at the International Roerich Memorial Trust, they expressed the desire to invite Indian artists for this plein air programme running from June to October. The plein air and exhibition programme has been on for a long time now - its 51st anniversary was recently celebrated while in Pokrov, but since a few years ago it has become international.  This summer season for the first time 4 Indian painters Shryansy Manu, Harmandeep Singh, Shraddha Bansal, Avinash Manekar participated in the plein air and 2 sculptors Pankaj Guru and Priyanka Gupta and I joined the program in Aleksandrov and Vladimir. We have stayed at some of the monasteries, which gave a unique opportunity to get exposed to Russian spiritual culture and of the life of the monks living there.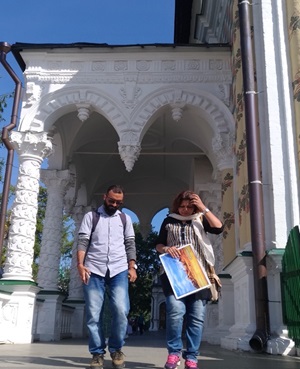 Avinash Manekar in Sergeev Posad
This time I was also invited to make a presentation on 'India as a cultural destination' that I delivered in Vladimir at the exhibition opening in September. I tried to introduce the Russian audience to India and its culture through these participating Indian artists and the cities that they had come from. I was trying to present the diversity of India through the artist's background.
Is this the first time that Indian artists participated in this annual art project? What were the criteria for selecting artists? 
The "Russian Atlantis" is primarily about en plein air and outdoor practice, so it is not too easy for anyone who has no experience in architectural sketching and live painting. It becomes very different when you are not painting from life or photograph. The sunlight keeps changing so you need to adapt this background. Some artists like Harmandeep Singh were the ones whose works I had brought to Russia last year to Nizhny Novgorod as part of "Indian contemporaries", others like Shraddha Bansal and Avinash Manekar I knew from my other projects in India.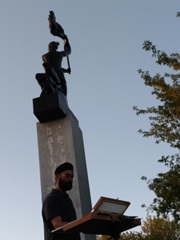 Harmandeep Singh painting plein air in Aleksandrov
What is cultural diplomacy for you in our globalized hyper-connected world?
Diplomacy, and cultural diplomacy is no exception, is basically an art of relationships between two different sets of cultures, governments or people. All through my various activities in life one of my main goals was to try to create a connection between cultures. That was one of the reasons, why I turned to art from engineering. It was not only the desire to express myself, but to reach out and understand what the human engagement is. I know that there are a lot of exchanges at the government to government level, but I am convinced that we as individuals need to make a contribution. The borders are there, but let's cross them. They are all in our heads. Even when I brought the exhibition "Indian contemporaries" to Nizhny Novgorod, it was my personal desire and goal to show to Russian and Indian artists where we stand in the current date – not only based on nostalgia and friendship. The friendship has been there for ages – Russia has been the best friend for India for a long time. But I think we need to understand each other better now. And better can happen only if we understand where we are, today.
I often start my projects from a spark – that's how the exhibition in Nizhny Novgorod came about: one of my friends there asked me if I wanted to do that. Once the desire is there and you work for it, then it happens. I also got very good support by the Russian Embassy in India and from my friends here in Russia. And then you can make it happen. Diplomacy provides you tools so that two different identities can come together.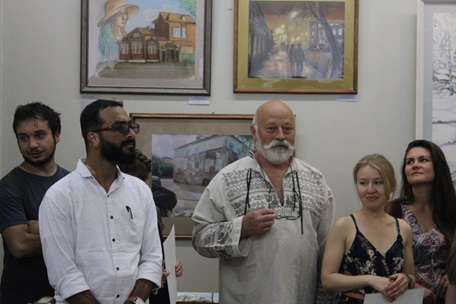 Exhibition opening at Aleksandrov Art Museum
Why is this hand-on cultural experience so important for an artist? 
Any artist is foremost an individual, so all these trips and mutual projects give amazing experience to any individual by exchange of thoughts and creativity. When you work with somebody for 10- 15 days you create a bond with them. And this bond is what makes these cultural ties very important. Culture becomes something on a one-to-one basis. You can look at art as long as you want, but common experience is completely different.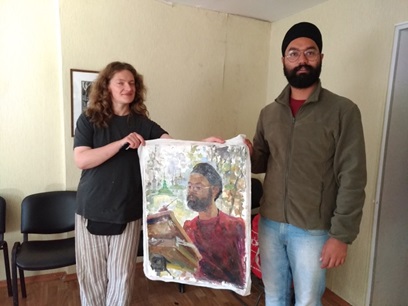 Gifting Harmandeep Singh his portrait in Aleksandrov
How special is classical Russian art for Indian culture and what do you think is so precious for Indian people to imbibe in the Russian spiritual treasures? And why does it resonate so much with the Indian spirituality?
There is a strong connection in the spirituality of the two countries. Religion is an organized set of rules and traditions, but spirituality is much more than that. This is the aspect where Russian - Indian connection is pretty much there. I've travelled with those artists to the sacred places like Sergiev Posad, Vladimir, Alexandrov, and Pokrov that are known for their architectural sites and rich historical background. Nevertheless, I must admit that a church is a church, but when you are sitting there you are imbibing that environment because a certain aura is there, the place itself is spiritual. And for an artist painting is a very meditative exercise, especially when you are able to do that in a spiritually enhanced place, which makes meditation much more important. And, I think, it does not only give more power to the artist, but also to people around who come to see this: it becomes a live performance. More than one person is engaged in art and it spiritually uplifts everyone involved in the process.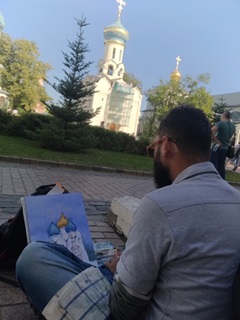 Avinash Manekar in Sergeev Posad
What is so special about those small towns that were en-route?
I've travelled extensively across Russia, including the provinces, but surprisingly it was the first time I was in any of these small towns …They possess a specific atmosphere or essence that will go away, if we do not capture it. And it's not just traditional architecture: they preserve the collective memory of the nation, which is very important. Metropolitan cities are on the move, anywhere they are cosmopolitan, inclusive…When you go to provincial towns like Alexandrov – and it was God's luck that we happened to be there on the City Day celebrations. The whole city was out on the street; festive celebrations were on until 2 am. The next morning, I woke up early and went outside, and it was dead silence. And that's when I realized that there was life beyond: that silence, that solitude was there – something that places like Moscow or St. Petersburg completely lack.
As far as I know "Russian Atlantis - 2017" was showcased last November in Delhi at the Russian Centre of Science and Culture (RCSC) and was hugely successful.  What are the plans for the upcoming year? Will Indian public see Russian Atlantis in India any time soon again or Indian participants will exhibit their works elsewhere?
The future holds a lot of planned events, trips and exhibitions and a few surprises too. As recently shared by Vitalii Vasilev, St. Petersburg Centre for Humanitarian Programs is preparing a number of plein air and exhibition projects dedicated to the 550th anniversary of the visit of Afanasy Nikitin to India. The first block will be implemented as a series of 4 art exhibitions "Discovering Russia", which will be held between December 20, 2018 to February 20, 2019 in New Delhi, Bikaner, Jaipur and Kota. In New Delhi, with my involvement and support, the show will be held from December 26 – January 5 at the prestigious Prithvi Fine Arts and Cultural Centre. The works featured will be of renowned masters of Russian art, paintings and graphics and of the other members of the expedition. We are also looking at signing and executing a few Memorandums of Understanding with like-minded Institutions, Academies and Groups. 'The Days of Russian Culture in India' will take place in five cities from late October to December 2018. Our efforts are to bring Russian art to the Indian public and India to the Russian and to help bring the creative and artistic communities of the two countries closer.
read more in our Telegram-channel https://t.me/The_International_Affairs