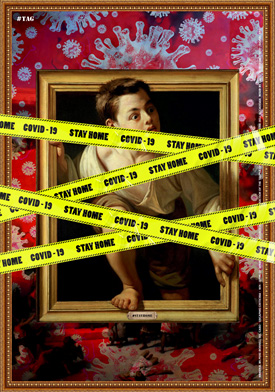 "Stay Home" #TAG, Tel-Aviv
Photo by R. Karapetyan
All through this unforgettable March, the Corona crisis swept the globe affecting everyone directly and changing the nature of their everyday life. As the streets and squares were turning empty, museums and galleries on all continents - from America to Australia - shut their doors to the public, theatres switched to online-only shows, visual artists did not stop their communication with the real world and its images. Not for a minute. Epidemics end, art does not. Some of them reflected on self-isolation, continued making art and showcased the results online, but others - like graffiti and other street artists around the globe - responded to the on-going crisis and transformations in real time. Moreover, many managed to find ways to beautify now-empty public spaces with messages of hope and resilience. Some of the art objects and murals really fit into local and historical context without losing their sharp message. For instance, this elegant monument to Ferdinand Raimund, Austrian dramatist and actor, situatedin the center of Vienna, is now well-protected from this severe virus by stylish masks.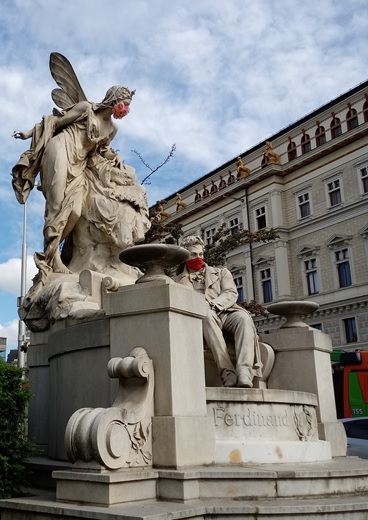 A monument to F. Raimund in Vienna
Photo: by Golnaz Bashiri
Еscif, a well-known Spanish muralist and street artist, started a project entitled "This Too Shall Pass" two years ago. A huge 20-meter high wooden sculpture of a girl sitting in meditation was installed in Valencia city square and scheduled to be part of the province's annual Las Fallas Festival ("Festival of Fire" is traditionally held in the region in springtime; it was scheduled for March 19, when Spain was in lockdown). The art object was meant to be burnt as a ritual, but because of people's support, the Valencia government decided to proceed with part of the ceremony setting on fire just the bottom half of Escif's sculpture, but keeping the face with the mask in the square. "As a reflection of this crazy situation, we had decided to add a big surgical mask to the face of the sculpture. Suddenly this image became a symbol of peace and calm, unity and solidarity", the artist wrote in his social account.
Now, three months since the pandemic began, we can see that coronavirus-themed street art developed together with the changing perception of the crisis. Furthermore, an unprecedented "collapse of normality" engendered new forms of creativity. In the beginning, many street artists took a humourist approach to help people fight coronavirus fears. They colourfully depicted the new enemy of humanity as a cartoon character or mocked stockpiling of long-lasting goods, including toilet paper. Panic-buying affected most of the countries severely hit by the crisis, causing shortages of supplies and empty shelves in supermarkets.
Mural fragment on the wall of Graffiti Tunnel. London.
Photo by M. Arendt
The Berlin-based street artist Eme Freethinker has turned to satire and did a series of graffiti on a wall in Mauerpark a public park in the Prenzlauer Berg district. He depicted the character Gollum from "Lord of the Rings," saying his famous "My precious," and Scrat from "Ice Age" holding a roll of toilet paper. A similar intonation was chosen for his works by the Israeli artist Ruben Karapetyan, known as #TAG."I made all three works on the subject when the epidemic was just beginning in Israel before the quarantine. I even had enough time to paste one of them - "After Breaking Bad" -  in Bat Yam, not far from where I live.One needs to take the message of my pieces with a dose of humour – art needs to evoke positive emotions. I decided to continue working in the lockdown and published a few digital pieces on my Facebook and Instagram accounts. In times of crisis artists too need more energy to stay creative, but it's important not to give up, stay optimistic to help people get through the storm", explained the artist in the interview to "International Life".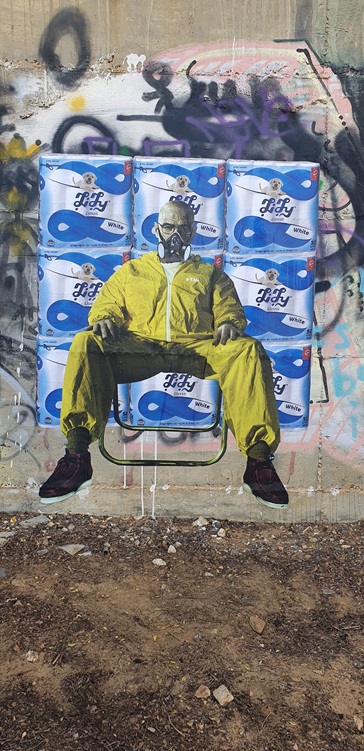 "After Breaking Bad" Tel-Aviv.
Photo by R. Karapetyan
When the scale of the crisis became evident, street artists began contemplating on such notions as 'social distancing' or 'mask regime'. In some cities they offered informative graphics and slogans helping people to cope with the new reality.
Now we mostly see murals, posters, and graffiti celebrating healthcare workers as the real heroes of our time. In the beginning of May, Banksy, probably the most acclaimed street artist in the world, also published his new work dedicated to medical workers on Instagram. A monochromatic painting entitled «Game Changer» is one square meter in size. It depicts a young boy kneeling next to a wastebasket, where he dumped his former favourite toys - Spiderman and Batman - in favour of a new action hero – an NHS nurse.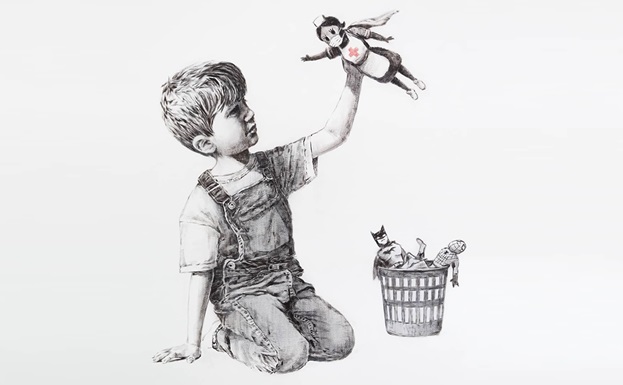 Фото: banksy / Instagram
Russian street artists did not fall by the wayside. "Most young people feel responsible and observe the regime of self-isolation, but still I sometimes see street artists who sweep cruise? along the Garden Ring on a bicycle. The rebellious spirit is still present, especially in the current crisis times", says Sabina Chagina, the co-founder and curator of Artmossfera, the biennial of street art that was first held in Moscow in 2014. A mural paying tribute to Russian medical professionals fighting the disease appeared in the center of Moscow, on Dolgorukovskaya street.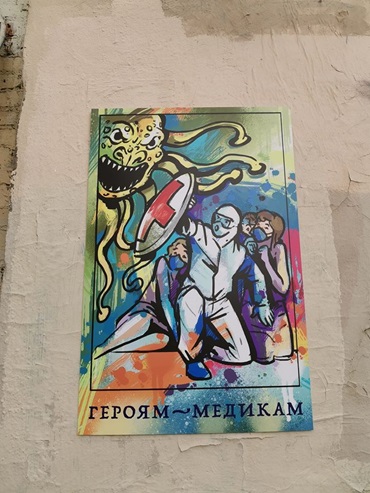 "To doctors – heroes" in the Moscow city center.
Photo: by E. Rubinova
Artists in St. Petersburg, Nizhny Novgorod and other cities have painted colorful outdoor murals or graffiti reminding people to stay at home. Anticoronavirus graffiti was created by artists from the St. Petersburg art group HALVAH. Under the conditions of self-isolation, Joseph Brodsky's poem "Do not leave the room" written exactly 50 years ago turned out to be prophetic. A few new translations of this poem into European languages were published. Extracted from its original Soviet context, the poet's satirical slant took a literal interpretation and sounded very relevant to our extraordinary moment. Even those who never heard of the poem learned the opening lines: "Don't leave your room, don't make the fatal mistake…" The iconic image of the Russian poet wearing a medical mask appeared on the wall not far from Sevkabel port, a popular gentrified industrial space in Saint Petersburg.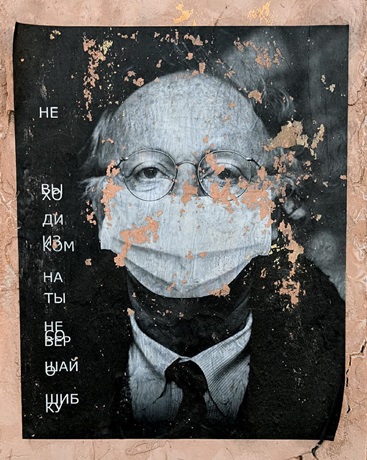 Graffiti «Do Not Leave the Room». Saint-Petersburg.
Photo: vk.com/halvahfabric
"The situation of desolated cities is almost ideal for street artists. Many, including graffiti writers, take their chance despite restrictions. I highly appreciate the series by Nikita Nomerz called 'High Alert Regime' (note: extra measures announced in March to stem coronavirus outbreak in Russia). The series has responded to the situation sharply and timely and had a strong media coverage", says Tatyana Pinchuk, the Director of the Street Art Museum (Saint Petersburg).
Street artist Nikita Nomerz from Nizhny Novgorod announced in his social media account about the project. This is a story about a state crisis in the era of the pandemic, and in the online presentation one can get acquainted with individual works (including spherical panoramas). The street exposition address will not be disclosed until the end of the pandemic, but after removing all restrictions, the project has every chance of becoming a kind of diary of the crisis experienced in the conditions of the Russian province.
Now, when some countries are gradually lifting the restrictions, we see somewhat of a diary of the crisis – an attempt of the artists to reflect on the well-known past and unclear future that has already been called a POST – COVID world.  Genuine street art is still sensitive to social changes and almost instantly responds to any social problems. Moreover, to a crisis of such unprecedented scale as the pandemic. And there is no doubt that art as an ideal communicative medium will not be slow to present new forms and trends. "Lately, we've seen a great demand in intelligent art, I mean intelligent in a broad meaning of this word. Art that is delicate, sharp, humorous. And I see an obvious trend going in this direction. Nobody needs meaningless decorative murals any longer", says Tatyana Pinchuk. Artists seem to agree with her. "We will soon see subjects and new artistic language that come after the theme of the pandemic itself. First of all, they will be economy-driven and address those in power who are responsible for handling the crisis. It goes without saying that such issues as privacy and protection of personal space will be the focus for many", adds Ruben Karapetyan (#TAG).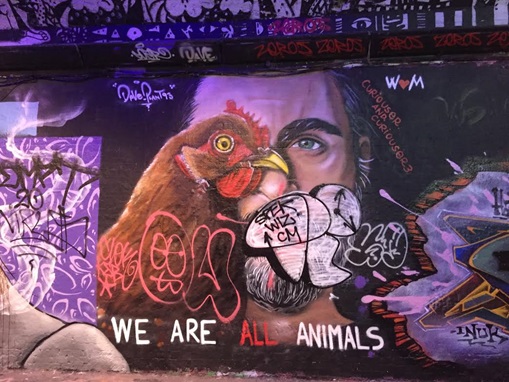 Graffity Tunnel. London.
Photo by M. Arendt
"The tsunami will be everywhere. Street art is no exception, and first of all it will happen because life in the post-COVID world will be profoundly different from what we are used to. I'm convinced it will affect contemporary art as well. Chances are high that many artists –  at least, those who called themselves so and sometimes without reason – will stop their art practice. They will have no energy, time or money for that. Only those who are highly motivated and have something important to say will remain, others will be gone", says Dmitry Aske, a versatile artist from Moscow, who has been in the making since 2000 -- first as a graffiti writer and later as a graphic designer and contemporary artist.
We won't have to wait for long. When the pandemic abates and the authorities lift travel restrictions, the inhabitants of big and capital cities as well as tourists will see with their own eyes who was right.
Images: courtesy of Golnaz Bashiri (Vienna), Maria Arendt (London), Ruben Karapetyan (Tel-Aviv) and Elena Rubinova 
read more in our Telegram-channel https://t.me/The_International_Affairs