Photos by Oskar Konyukhov
Russian traveler, artist and writer Fedor Konyukhov has completed an expedition in the course of which he sailed a row boat across the South Pacific from New Zealand to South America's Cape Horn. He has thus covered the final part of the journey he began in 2014, when he sailed from Chile to Australia.
Fedor Konyukhov's expedition has set new world records, to be added to his already impressive list of world records. To begin with, rowing aross the Southern Ocean from New Zealand to Cape Horn has never been attempted before and the distance covered is the largest ever - 11,500 kilometers. In addition, the Russian traveler is the most advanced in age single-rower - he is 67.
On May 17, Fedor Konyukhov held a press conference in the Argentine capital at which he shared his experiences and lessons learned with Russian and international journalists.
Argentina is like Russia
"It's not my first time in Argentina but first time in Buenos Aires. I like Argentina because it is so large and is like Russia. I am grateful to the Argentine authorities and people for the hearty reception," - the Russian traveler said as he addressed the participants in the event. "I arrived here in a rowing boat, it was a long, challenging journey but with God's help I came to the finish."
Fyodor Konyukhov recounted that the expedition had been an ordeal as every day presented a challenge. "Storms lasted for 100 days and for 50 days the weather was more or less, but the weather is never good there," - he noted. - I didn't sleep in my sleeping bag for months, I slept in a sitting position. And once I had 38 hours of storm, the boat overturned, and I had to lie tied all 38 hours, so as not to fall on the ceiling and not create a counterweight, otherwise it would not have returned to its normal position." He remarked that it was particularly hard when he had to spend a long time fastened with straps to the lower part of the vessle: "it was very hard not to sleep, especially when tied".
When asked whether he managed to get enough sleep during the journey, Fedor Konyukhov said he didn't sleep during the expedition, but dozed for 10–15 minutes, sometimes a little longer, 30 minutes. "There's no timetable for sleeping, eating rowing, - he said. Everything depends on the weather, the weather decides everything there, regardless of whether it is day or night."
The traveler revealed that in the high seas everything that happens around is perceived quite differently. "On the ground, when you look around, you see the horizon, the vertical - posts, doors, but there are no verticals in the ocean, only the horizon, which is blurred. In the Southern Ocean there isn't any bright colors - yellow, red, blue,  - the ocean is always black, gray, the sky is gray, there is almost no sun, endless clouds, I have not seen sunrise or sunset, every day was grey, rain every day, snow, snowflakes. There are no voices, there are only sounds, a noise, but people are accustomed to voices. In the center of the ocean there isn't a soul. I saw only jellyfish. There are no animals, no fish, no birds, he emphasized. - The same products - all sublimated. Yes, you can eat them for a day or two or three, but when you have to eat them all the time, they have but calories, there is no smell or taste. And there are no scents in the ocean."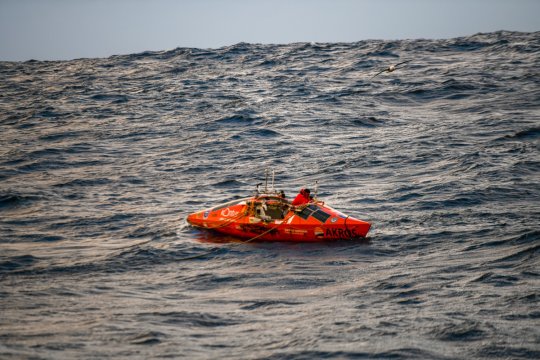 With God's help
According to Fedor Konyukhov, the ocean "keeps you in suspense every minute, the waves would strike with such a force that the boat could have collapsed. No, I was not in despair but in my mind I knew that the boat could fall apart at any moment, or I would be washed away. If you row all the time, this is monotonous work, I did every rowing motion with a prayer, I said a prayer thousands and thousands of times a day. And Saint Nicholas the Wonderworker helped me allthe way. "
Easier to collect stranded from the moon
When asked whether he ever had a desire to give up on everything and terminate the expedition, Fedor Konyukhov ironically replied that for now there doesn't exist a transport that could quickly arrive in the high seas, into the ever raging storm, to collect someone stranded. "It would be easier to reach the moon," - he said. "No one can get there, so what is left is to wait and sail on."
Having reached the shore, Fedor Konyukhov first went to a small chapel in the tiny fishing village of Puerto Toro in Chile, located on the Beagle Channel. The traveler said that he found it hard at first to be on the ground. "I felt dizzy, I felt sick on the shore, I got used to the rocking," - he said.
Experience helps to overcome difficulties
Asked about motivation, Fedor Konyukhov told journalists that he likes to face  challenges and finds it natural to be travelling all the time. "You can prepare physically, but physical strength alone is not enough. It comes with age, with experience, with faith. I am a believer, faith helps me," - the traveler pointed out. - But young people find it hard spiritually, morally. If I were younger, I would not do it. What counts is experience, my experience helped me. I was 15 when I first crossed the Sea of Azov in a rowboat. It was my first expedition, there have been 50 since then. "
Russia is behind me
In the course of a friendly talk the news conference gradually grew into, Fedor Konyukhov recalled that in 2002 he set a world record by crossing the Atlantic and that this record, associated with Russia, remained unbroken for 12 years. "Each expedition is prepared for a very long time, a new boat is built for each one,"- said the circumnavigator. - In 2014, I managed to cross the Southern Ocean from Chile to Australia. No one has yet broken this record, it is on Russia's record, it is Russian. Before me, two Englishmen and one Frenchman tried to cross the Southern Ocean on oars, but to no avail. While mounting this expedition, I thought that if I gave up, if I failed it, then no one would think about Fedor Konyukhov, everyone would think about Russians. A Russian rower failed. For this reason, I had to keep it up, for Russia! It motivated me. "
"I have set more than 20 records for Russia. And this record will last us for a long time: maybe, the older generation ventures out, but the young won't. They need to grow up, maybe then they will, in 10-20 years," - Konyukhov said.
I love people
Speaking to an "International Affairs" reporter, the Russian traveler admitted that seeing people after a long expedition, "I think I know everyone, I love everyone, I miss people. I am a loner, I am used to going on an expedition all by myself. It would seem that travelling together with someone else would be easier, but I find it more challenging psychologically. All countries I have ever visited have provided me with more than welcome reception. Because all people are romantic travelers by nature. That's why I love all people, and they love me. All denominations: Buddhists, Catholics, Orthodox, and Muslims - all support this, I love them for it. "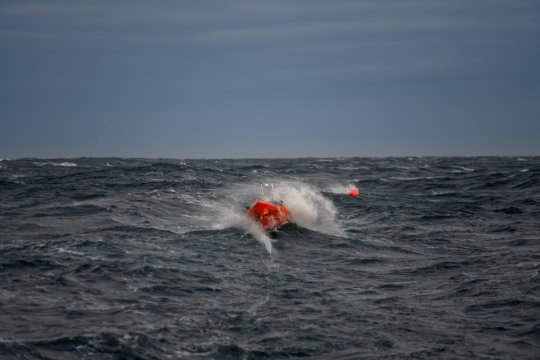 Addressing the press conference, Russian Ambassador to Argentina Dmitry Feoktistov passed Fedor Konyukhov a letter of congratulations from President Vladimir Putin. In response, Fedor Konyukhov thanked the president saying that "our president is a brave person - he supports those individuals who have not only set records for Russia but have made important discoveries for the whole world."
In his address to the participants in the event, Dmitry Feoktistov described as "symbolic" the fact that "Fyodor Konyukhov's journey came to a close on Victory Day, a sacred occasion for Russia and other countries. I don't think that there can be such random coincidences - on the one hand, Victory Day, on the other - Fedor Filippovich's victory over himself, which symbolizes the unbending nature of the Russian character and the strength of the Russian spirit, the glory of victory, - the diplomat said. - I think that Fyodor Filippovich is our modern national hero, and what he does is an example for Russia and other countries - when life becomes too hard to bear you just have to clench your teeth and move one, at the end of the day, the one who fears nothing, wins".
When asked by an "International Affairs" reporter what people think about Konyukhov's expeditions in other countries, the head of Fedor Konyukhov  Expeditionary Headquarters Oscar Konyukhov had this to say:
Projects of Fyodor Konyukhov cause genuine interest in other countries and boost Russia's image to a higher level.
 «All of Fedor Konyukhov's projects are complicated and of global value, and all follow one and the same pattern: at first, the local authorities are surprised to learn that we are launching a project from their territory, be it Australia or New Zealand, Chile… at first, they are dumbfounded. We are well-trained, we meet all the requirements, no matter how unrealistic. Then they understand that they have no other alternatives and they begin to cooperate, they become involved, the project captures their interest, they do everything to help. Fedor's projects trigger undivided interest in these countries, particularly given that they are high-tech projects which originated in Russia and are being implemented by a Russian team, which adds significantly to Russia's reputation worldwide».
According to the Russian ambassador to Argenina, «the traditional diplomacy with its never-ending talks and, coordination of efforts should be complemented with normal human contacts. Russia and Argentina are old partners, Russians are always welcome in Argentina. Surveys say nearly 80 percent of the population have a favorable opinion of Russia. For this reason, it is important that such great individuals arrive in Argentina to demonstrate what is Russia today and what it is not, as opposed to what we can hear from foreign media reports. Fedor's projects mark the triumph of Russian character and willpower».
Dmitry Feoktistov pointed out: «in the past six months I have seen Russians arriving in Argentina with many of them personifying victory. A Russian team at the Youth Olympics beat all their opponents grabbing the biggest number of gold medals. A Russian couple who performed in the Tango Championship in Argentina, won gold. Fedor Konyukhov arrived on Victory Day proving yet again that Russia is a strong, unbending nation populated by equally resilient individuals. All these petty attempts by the West to portray Russia in the wrong light run counter to international law. Russians like Fedor demonstrate the true face of Russia. I have no doubts that opinion polls  conducted after Fedor Konyukhov has arrived in Argentina will indicate that 100% of the public think highly of Russia!»
At the end of the news conference Fedor Konyukhov expressed hope that he would be able to return to Argentina in the near future, not as a traveler but as an artist, to present a more than impressive collection of his paintings.
read more in our Telegram-channel https://t.me/The_International_Affairs